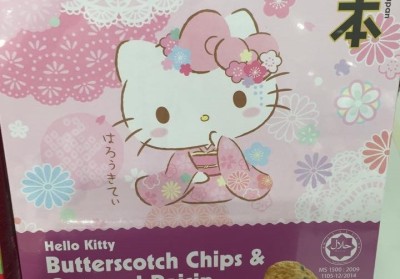 The sales of Hello Kitty HALAL cookies and HALAL gaufrettes started in the major duty free shop, LAOX Shinjuku store and Akihabara store and Aeonmall Narita store, which is proceeding with Muslim-friendly correspondence. The price is 1000 Japanese yen each. *The HALAL certificate was issued by Malaysia JAKIM.
HALAL cookies
The cookie dough that uses a mellow butter added butterscotch, raisins, oatmeal, chocolate chip.
HALAL gaufrettes
It is very crispy and green tea, strawberry, banana three fragrant cream sand in.
These sweets with Hello Kitty wearing kimono printed on the package are sure to please everyone as a Japanese souvenir. Japan will be sending "Kawaii" and "delicious" to the world.
■LAOX Shinjuku store
http://www.halalmedia.jp/archives/1959/laox-tax-free-shop-shinjuku-branch-opens-today-ready-serve-customers-counters-selling-muslim-friendly-products-worshiping-space/
■LAOX Akihabara store
http://www.halalmedia.jp/archives/1483/industry-leader-duty-free-shop-laox-akihabara-starts-selling-halal-products/
■LAOX AEON MALL Narita store
http://www.laox.co.jp/en/stores/narita/