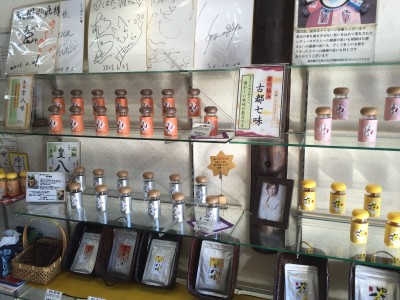 There are many places we recommend everyone to visit when travelling to Kyoto.
Gion Hatagen is a famous shop only those in the know among Japanese people, famous for their logo "Saikyo Ichimi (the best chili seasoning)." Gion Hatagen is all organic and only uses natural ingredients. How about shopping here for souvenirs?
http://www.gion-hatagen.com/about.html#order
"Saikyo Ichimi" is the most delicious and spicy chili in Japan that is sure to put a smile on your face once you taste it. It is so flavorful that they receive comments from customers asking if it contains soup stock, and that they have never tasted anything like it before. Only 100 bottles can be made in a day because it is made with only the fresh crops of precious chili peppers. It became popular with word of mouth, and is now hard to get, often selling out quickly. It is said that approximately 90% of chili peppers consumed in Japan today are imported; however, Gion Hatagen uses only the highest-grade chili peppers in Japan grown in their contract farm in Kyushu. Please enjoy the hand-made products made by bringing out all the great flavors using chili peppers as the base.
It is a 5 minute walk from Narita-ya in Kyoto, and the two Muslim-friendly shops are very close to each other!
*This is not HALAL-certified
Kyo no Yakumidokoro Gion Hatagen
Tel

075-533-9888

Fax

075-533-9887

Open

10:00 to 19:00

Closa

No scheduled holidays

Address

〒605-0073 Kyoto-shi Higashiyama-ku Gion-cho machi Kitagawa 240