"CLIMB" Immigration Lawyer Office has handled more than 1,200 consultations per year as an immigration specialist, and is now starting a new service for Muslims living in Japan!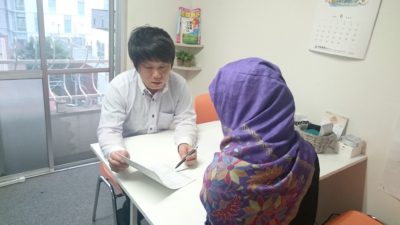 We'll apply for your Extension of Period of Stay for just 10,000 yen!
Are you still applying for your visas on your own?
http://www.client-partners.jp/
We imagine that applying for a visa is such a hassle for you Muslims living in Japan.
The Tokyo Regional Immigration Bureau near Shinagawa station is always so busy, that sometimes you have to wait more than 5 hours to get things done.
Not to mention, the Immigration Bureau is only open on weekdays, which means you have to take 2 days off from work, one for application, and another for receiving. This is clearly a problem.
At Climb Immigration Lawyer Office we have started a new service. If you are a foreigner who hasn't changed jobs, and hasn't divorced, we will apply for the renewal of your visas for 10,000 yen.
FLOWCHART
(1)Contact us, and we will set a meeting at our office. (Phone: 03-5937-6960)
(2)We will prepare the application forms. (This will take a half an hour to an hour).
(3)Pay the fees.
(4)We will send you the application forms we prepared, with a list of other documents you need, and a self-addressed envelope.
(5)Have the organization to which you belong to affix a seal to the forms.
(6)Return the documents to us using the self-addressed envelope.
(7)We will apply as soon as we receive the documents needed.
(8)We will let you know when we get the results, and hand you your new residence card.
QUALIFICATIONS
・There must be more than 1 month left until the expiration date of your visa.
・Have not changed jobs. (This is if you have a working visa.)
・Have not gotten divorced. (This is if you have a spouse of Japanese national visa.)
*For those who do not fulfill the qualifications, we will apply for you at our usual price 37,800 (including tax).
*We may ask for additional fees, if additional documents are needed in the process.
*After your visa is approved, 4,000 yen will be needed for revenue stamps.
We handle other services, such as…
*Support for Muslims who want to launch a new business in Japan.
*Applications for permanent residence.
*Applications for naturalization (to become a Japanese national).
*Applications for dependent (family) stay visas (to bring your family overseas).
* Applications for changing status of residence (such as after graduation)
*Other Immigration and visa needs.
Campaign
10% cash back to people who apply from HMJ.
Tax-Free for people who check HMJ.
Climb Immigration Lawyer Office
Our office is a 2-minute walk from Takadanobaba station's Toyama exit, not far from Ikebukuro and Shinjuku.
#501 Sumi Bldg., 4-1-6 Takadanobaba, Shinjuku-ku, Tokyo
Business hours: 10:00AM-10:00PM
CONTACT
Office: 03-5937-6960
Cell (English): 080-8915-2566
E-mail: info@gh-climb.jp
URL: http://www.client-partners.jp/