Necessities for Muslim
Written by Hafizah Khusni San
As a Muslim, do you ever feel insecure to travel to a place or a country especially if the majority is non-Muslims? Where will I pray? How to find halal foods in a place I've never been before? This is just one of the things that need to be prepared before and include them in your itinerary.
In Japan, with its small number of Muslims residing and the lack of understanding in Islam, there are severe shortage of services and facilities for Muslim travelers. It is also quite difficult to find halal foods and prayer spaces in Japan. However recently the number of Muslims visitors and tourists coming to Japan is increasing incredibly since 2014. According to the statistics, many tourist agencies are taking moves to broaden their scope in providing services for Muslim tourists.
Halal Gourmet Japan Smartphone Apps
Luckily, there is a smartphone app called 'Halal Gourmet Japan'. Available at Google Play and iTunes, this app can be downloaded to your devices and can be accessed just at your fingertips during your travel in Japan as long as you are connected to the internet.
HALAL GOURMET JAPAN APP
iTunes : https://itunes.apple.com/bg/app/halal-gourmet-japan/id1004830156?mt=8
Google Play : https://play.google.com/store/apps/details?id=jp.halalgourmet.mobile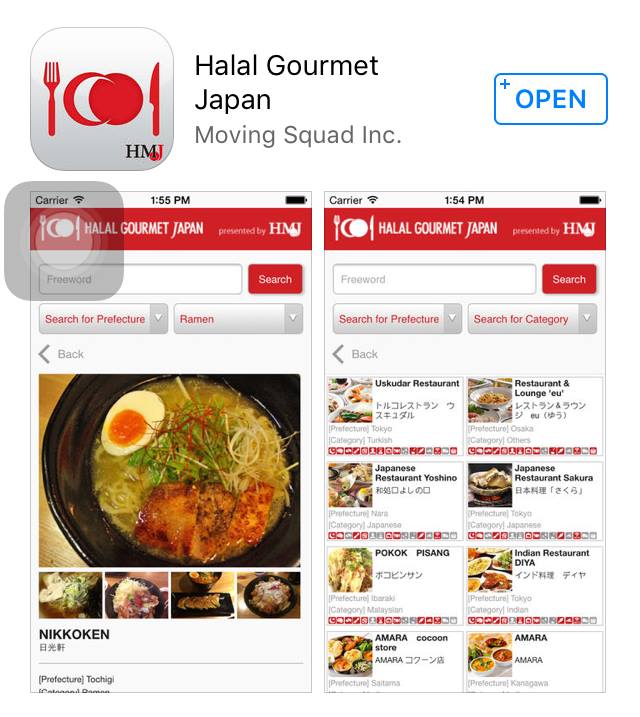 Muslims friendly restaurants
HGJ provides information of Halal and vegetarian restaurants in Japan prefectures. HGJ teams actively contacts respective restaurants to keep updating about the latest information on this app. Obviously restaurants with Halal certificates are being listed in the app, and they too offer information about premises as long as they are Muslim friendly environment, regardless the presence of Halal certificate. The app also advertises restaurants that serve halal whereby there is no pork and alcohol.
To make it easier for users accessing this app, HGJ comes up with a brilliant idea to use icons instead of lengthy explanation and overloaded information about the listed restaurants. Every mark has its own meaning with simple, comprehensible explanation.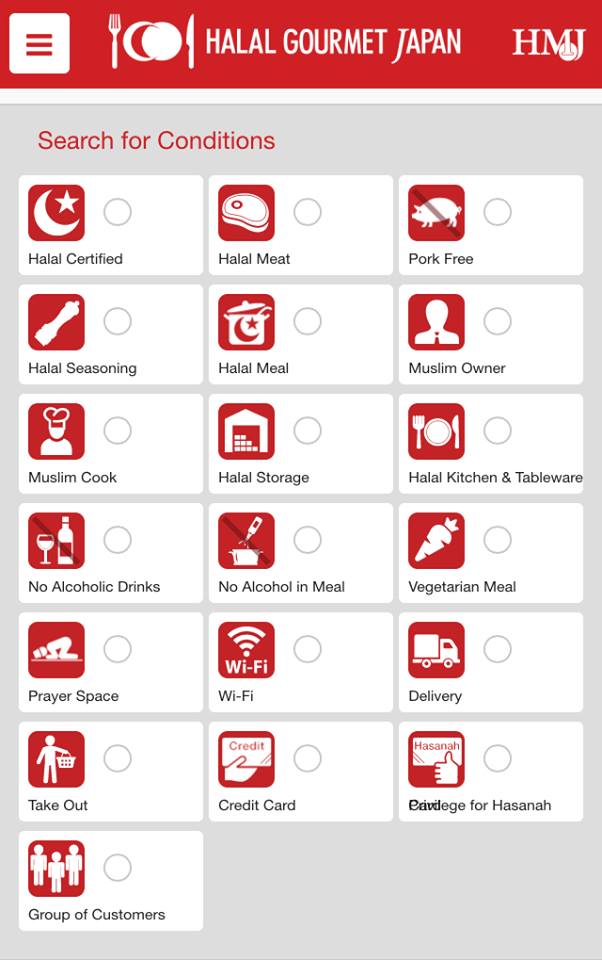 You can also search particular restaurants according to the name of prefectures, food category and foreign countries' cuisines. For example, you may choose keywords such as 'sushi', 'ramen', and 'noodles' or perhaps 'Italian', 'Pakistani' and 'Egyptian'. There are 36 categories available for you to choose from.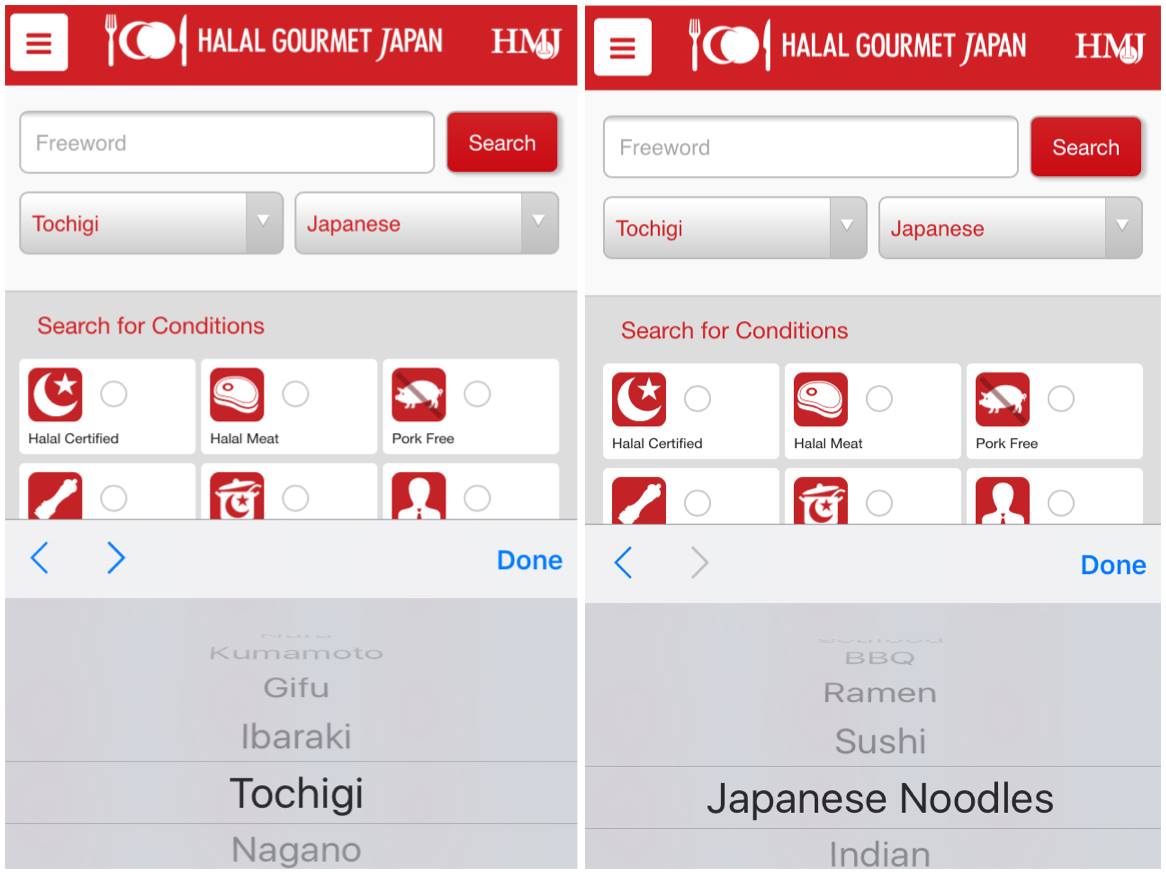 Prayer Space
In aid to Muslims regarding their Salah while touring Japan, this app also provides information on the availability of prayer spaces. From the app, feel free to scroll down until you see a green Prayer Space button at the bottom of the page. Not only mosques are being listed, but also restaurants or buildings – airports, hotels, sport centers and shopping complexes – that provide a comfortable space for Muslims to pray. Besides that, qibla compass is also available on the app for users to check the Salah direction.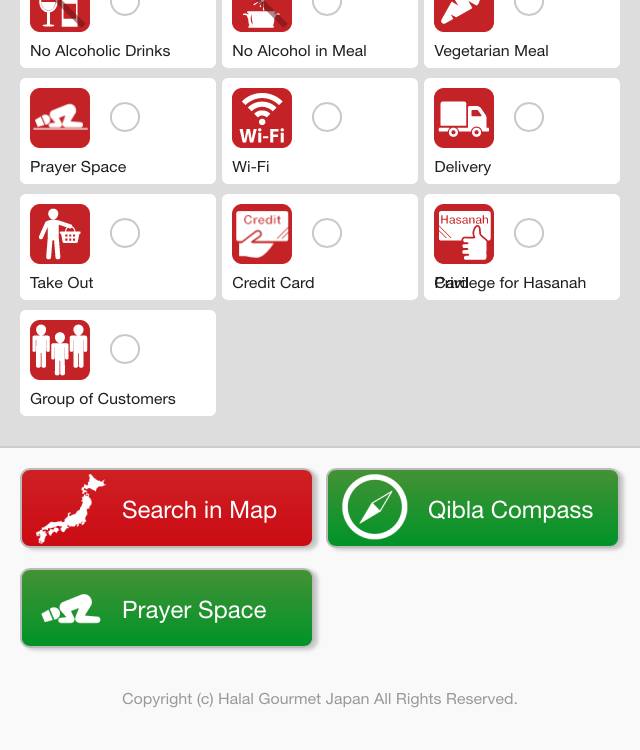 In Tochigi, Sano
In Tochigi prefecture, there are several restaurants with different categories of food that welcome Muslims customers. Here are some of the amazing highlights that Sano city offers;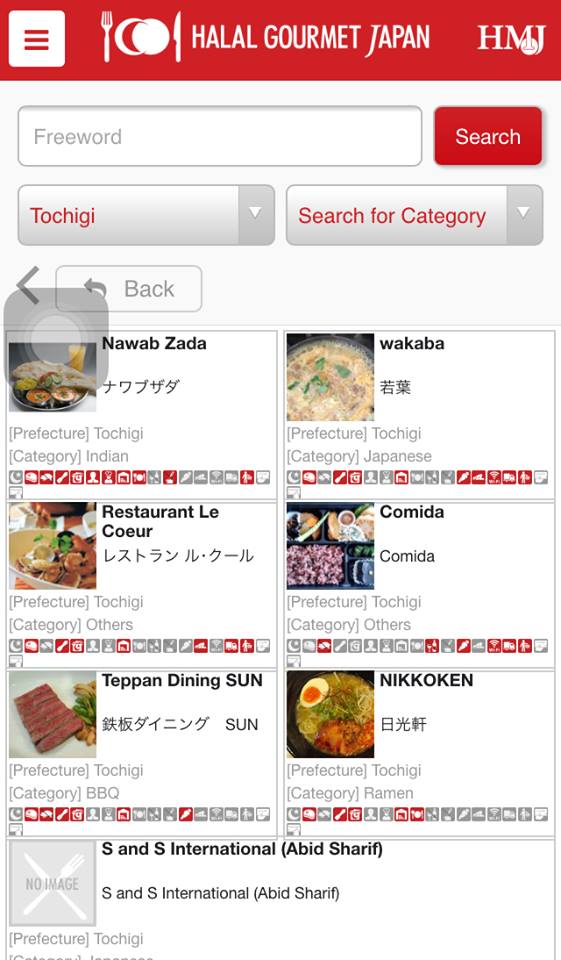 Nawab Zada
Indian curry restaurant located in Aeon Mall Sano New City.
https://www.halalgourmet.jp/restaurant/816
Wakaba
Japanese food restaurant in Kuzuu district. Offering various types of genuine Japanese cuisines such as Kaisendon, Unagidon and Kakifurai Teishoku. Some of the menus are season limited menus, so please check or maybe do some reservations before you go? Prayer space with prayer mat is available for Muslim customers.
https://www.halalgourmet.jp/restaurant/807
Teppan Dining SUN
Just 600 m from Sano Station, this restaurant is a must go if you wish to have meat in your meal since this is the only restaurant that feeds your desire in Sano city. Most of the dishes are cooked using hot plate. Prayer space with prayer mat is available for Muslim customers.
https://www.halalgourmet.jp/restaurant/643
Nikkoken
A ramen restaurant that is located only a few steps away from Sano station. It serves you halal ramen and gyoza and also other original Japanese cuisines such as Katsudon, Teriyakidon, Omuraisu and many more. Prayer space with prayer mat is available for Muslim customers.
https://www.halalgourmet.jp/restaurant/352
Sano Mosque Al-Ikhlas
Anyone is welcomed here to pray.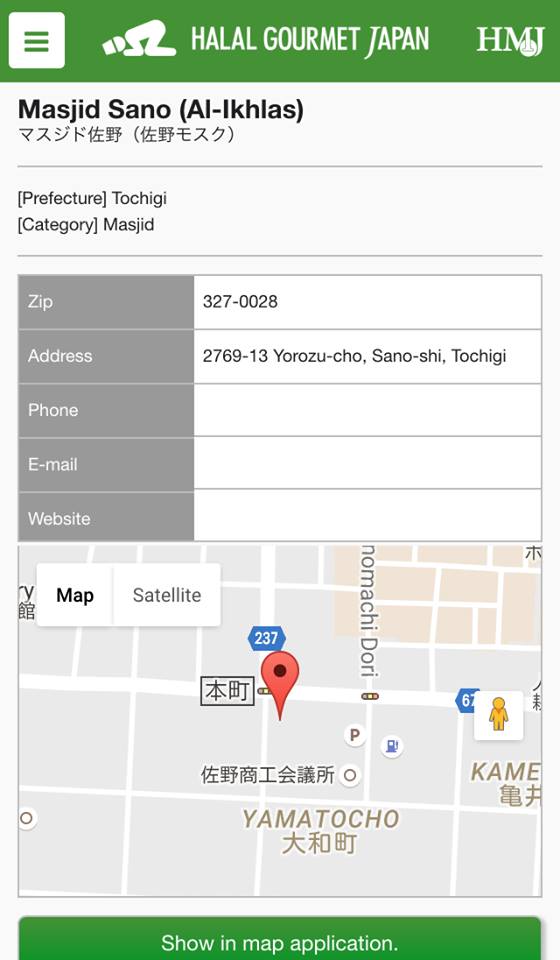 Related Article
[card url="https://www.halalmedia.jp/archives/16727/enjoy-muslim-friendly-town-sano-premium-outlet-mountain-welcomes-cats-best-gyoza-japan/"]