Exhibitor Profile of Halal Expo Japan 2016
What is the feature of your company and the products?
In order to allow more people in the world to know about "plum", which has been popular among Japanese people from ancient times, CHOYA continue to develop new products.
The CHOYA Ume Soda is a plum soda beverage with plums, sugar and soda water as ingredients. No other acidulants, colourings nor additives are used, therefore you are able to experience the solid yet refreshing taste of the Japanese plum.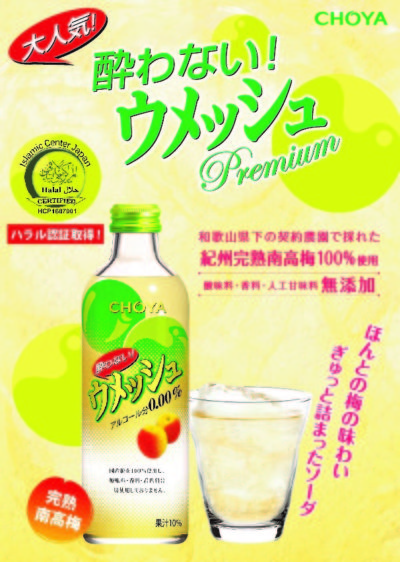 Why did your company acquire Halal certification?
The product is made from plum and sugar with any additives, so basically it is safe for Muslim's consumption. However we want Muslims to drink it without worries so we obtained the halal certification. We want to allow Muslims, who represents ¼ of the world's population, to know about the benefits of Japanese plums and be able to consume non-alcoholic products made from plum without any worries.
What is the recommended way of eating/cooking/using it?
Plum goes well with Japanese cuisine, especially meat dishes such as yakiniku, shabu shabu etc., fried dishes such as tempura. The sourness in the plum matches perfectly with the bubbly soda drink. It also goes well with ramen, which has been gaining popularity worldwide recently.
What are you looking forward to in Halal Expo Japan 2016?
We would like more people to know about the benefits of Japanese plums, and that CHOYA has obtained halal certification.
Where can I buy your products?
We currently deal with mainly food and beverage outlets for CHOYA Ume Soda, so please inquire to the business operators.
With CHOYA's slogan "Spreading the power of plum", we strive to discover new possibilities with plum, and hope to spread to everyone in the world the benefits of plum.
Music video for CHOYA Ume Soda http://www.choya.co.jp/cm/yowanai_yowanai/
Related Article
[card url="https://www.halalmedia.jp/archives/12468/halal-expo-japan-2016-will-held-halal/"]