We offer Halal Kobe Beef course dishes at Tsuki Usagi by RESERVATION-ONLY
Written by Kobe beef TATSUYA and Tsuki Usagi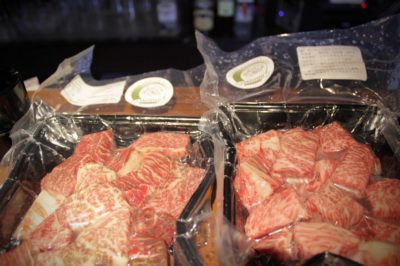 As Tatsuya is a butcher shop and has no restaurant, we'd like to introduce the place to dine in: "Tsuki Usagi", a small and neat restaurant in Sannomiya, KOBE. Tsuki Usagi is located in the middle of Sannomiya, a 5-min walk from Sannomiya Station(As of November 9, 2016).
Basically, Halal Kobe Beef course would be offered by reservation only.
Usually they aren't open in lunch time, and that's why they can offer halal course dishes exclusively.
If you don't mind if other guests are around and drinking alcohol, they can offer the same course in dinner time for the same price.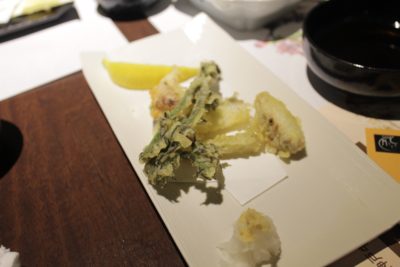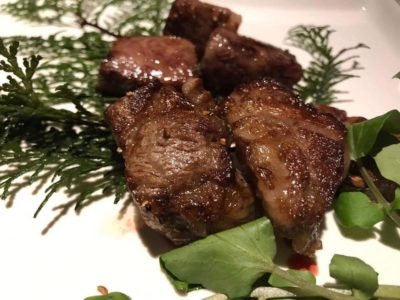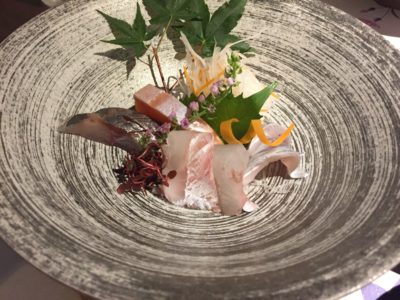 We offer dishes as a full course, with a main dish of Halal Kobe Beef.
Basically, we provide Halal Kobe Beef as a full course, including seasonal ingredients with free imagination, weaving the technique of Washoku, Italian, and etc…
The price is 10,000 yen + 8% tax for each person. And it's available for groups of 2 or more.
The full course includes Appetizer, Soup, Sashimi, Tempura, Halal Kobe Beef, Garlic rice with soup, Dessert.
Please click the image and you can see the English menu. Please notice that it would be changed.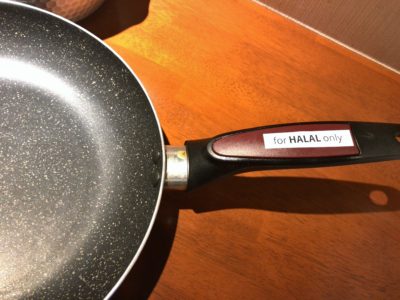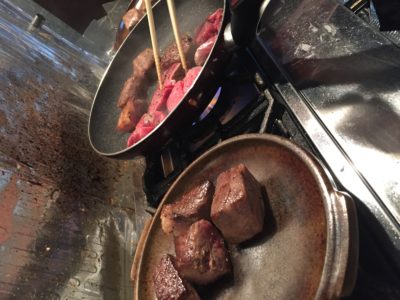 explanatory note
Halal Kobe Beef has Halal certificates by Islamic Center Japan (TOKYO), and ESMA of UAE. We can show you those certificates.
Tsuki Usagi doesn't have any Halal certificate or etc…
They usually offer alcohol and pork dishes. But they use the exclusive kitchen tools and tablewares for halal when cooking halal dishes.
All foods and seasonings are Halal in that course.
Please give us a reservation at least 2 days in advance.
We'd like you to pay 1 day in advance. We will send E-invoice which you can use your credit card.
We can provide a space to pray if you need (limited to lunchtime) .
It would be at the outside of the room, but you have a roof and it's a very quite space.
No one will be there because Tsuki Usagi is the only shop on the top floor of the building.
If you are interested, please contact us: "Tatsuya", a butcher shop of Halal Kobe Beef. Please tell us the number of your party, and preferred date.
Please ask us if you want to have specific parts of Halal Kobe Beef. We will show you the price ASAP.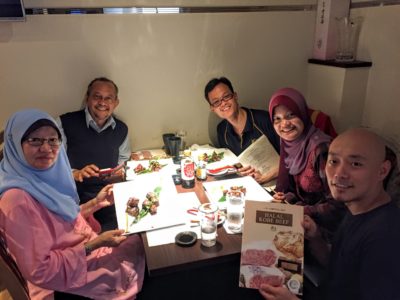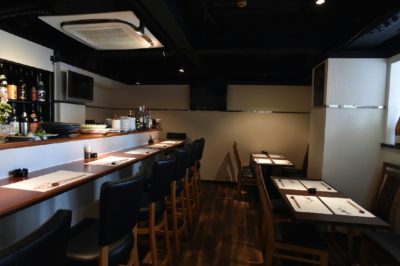 Tatsuya (English available. Please call "Lee")
Tel

078-331-3026 (Telephone available during 10 a.m. – 6 p.m. (except Sundays and National holiday))

Fax

078-331-3082

Email

tatuya@kobebeef.co.jp

Address

〒650-0022
1-13-19, Motomachi-dori, Chuo-ku, KOBE, HYOGO

Website
Related Article
[card url="https://www.halalmedia.jp/archives/18501/must-visit-kobe-beautiful-halal-shop-cafe-japan/"]