Exhibitor Profile of Halal Expo Japan 2016
What is the feature of your company and the products?
iRidge, Inc.
http://iridge.jp/
With the vision "to continuously create new value in the world through the Internet", we support enterprises' marketing activities utilizing smart phones. We provide O2O solution (popinfo), planning and development of O2O phone application, O2O marketing plan/operation support, and has the industry's top class record in the field of location-based services for O2O and smartphones.
Location-based Push Notification「popinfo」
http://popinfo.iridge.jp/
"Popinfo" is a service that allows you to distribute the information you want to tell on the standby screen of a smartphone via a pop-up. Just by incorporating it in the smartphone application, it is possible to distribute information according to user's location information (GPS / Wi-Fi / iBeacon / Bluetooth), attributes and time. As an O2O (online two-off line) solution that promotes mutual collaboration between online (Internet/Phone App) and offline (real store) by exerting a great effect on guiding users who are close to the store and online users to a real store. It has been introduced to retailers and commercial facilities. By utilizing it as a communication tool, we are reaching out to a wide range of industries, we also correspond to foreign languages, and have started to expand overseas.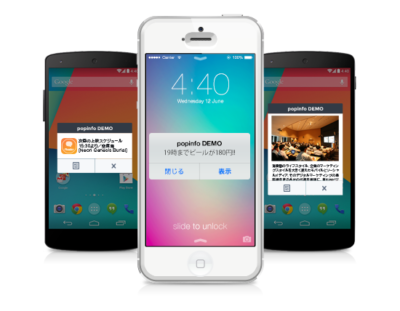 Where can I buy your products?
At our company
Related Article
[card url="https://www.halalmedia.jp/archives/12468/halal-expo-japan-2016-will-held-halal/"]