Writer: Nur Iman Miyazaki
Assalamu'alaikum everyone.
During the "Golden Week" in early May, we went sightseeing to Lake Kawaguchi and stayed at Muslim-Friendly hotel, "Syariah Hotel Fujisan". I would like to share our experience visiting Lake Kawaguchi and staying at the hotel as a Muslim tourist.
Lake Kawaguchi is located near Mt. Fuji. It is surrounded by nature and popular for the tourists. You can get a magnificent view of Mt. Fuji from sightseeing boat and many spots around the lake. You can also enjoy the beautiful scenery and Japanese cultural events of four seasons, such as flowers, autumn leaves and firework festivals. It is not so far from Tokyo, about 2 hours by car from Shinjuku (except during holiday season), about 3 hours by public trains and bus.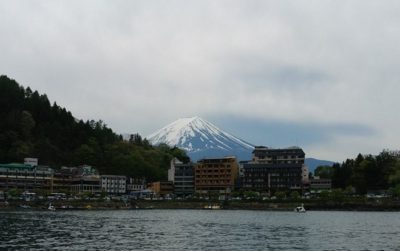 The hotel is located within 5 minutes by walk to Lake Kawaguchi, and you can see Mt. Fuji from the hotel garden. The sign of the hotel name is written in English and Arabic, and Al-Quran is displayed with Japanese decorations near the entrance, that made us feel pleasant.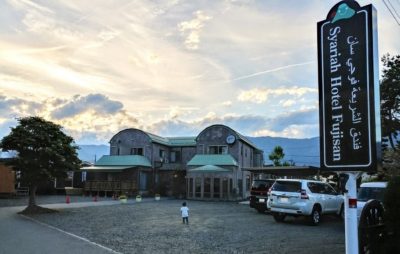 The room is clean and comfortable. It's not very big but enough for our family. Japanese style Futon (low-beds) and Yukata (Kimono-type room wear) are prepared. Qiblat mark is clearly presented on the ceiling in each room, and if you are travelling with friends, there is a prayer room where you can perform salat al-jama'ah.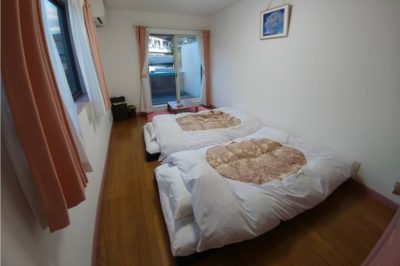 Halal meals are served to all the guests in the hotel restaurant. We enjoyed varied traditional local Japanese foods. Our dinner main dish was a pottery grilled beef with vegetables, tempura, and Hōtō (Hōtō is one of the famous local food in Yamanashi prefecture; miso flavour noodle cooked with seasonal vegetables). Grilled beef and Hōtō were heated up on the table.
There was no child menu, but special desserts were served for our kids. Local staffs are kind and polite. They speak English and Japanese.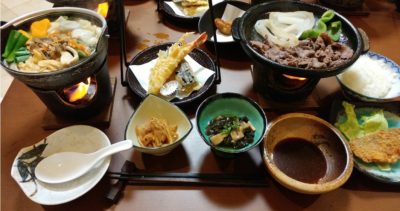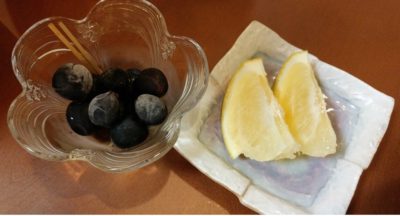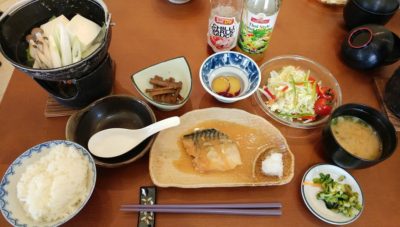 Accommodation fee is very reasonable. The twin room rate is JPY16,200 including breakfast and dinner. (JPY8,100 / person) You can also select a lower price plan without meals. I recommend you to try traditional Japanese foods; especially it is difficult to find halal Hōtō. Family rooms that can occupy 3 to 5 people are also available. However, credit card is not accepted, only payment by cash is available. The room rate is as of 6th May 2017. Please check the latest rate at "Booking.com".
Toilets and bathrooms are shared with other guests. All toilets are "shower toilet"; a typical Japanese toilet with warm water cleansing system and seat heater.
As a Japanese Muslimah, I would like to ask one thing about the usage of the toilet, especially to guests from foreign countries. It is a Japanese culture to keep the toilet clean and dry. Avoid from making the toilet seat and floor wet; heated seat can cause short circuit and the floor usually cannot be washed off with water easily. The toilet paper in Japan is water soluble; you can flush used toilet paper in the toilet. Never throw any used toilet paper into the sanitary box or on the floor.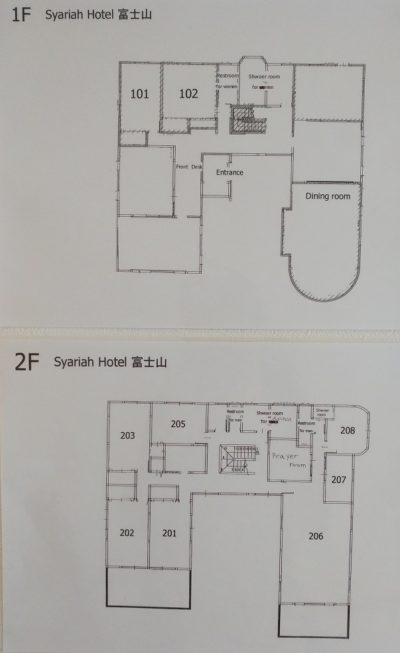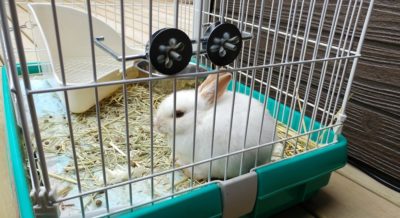 For lunch, we went to the halal Indian restaurant Alladin near the hotel and enjoyed Indian foods. You can also buy snacks such as cup noodles at the check-in counter at the hotel.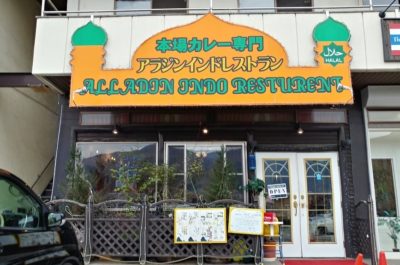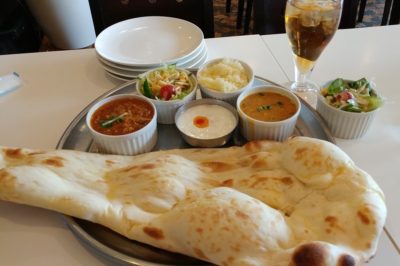 How about going to Lake Kawaguchi and stay at Syariah Hotel Fujisan for your next trip?
Syariah Hotel Fujisan
Address

6713-1 Funatsu, Kawaguchikomachi, Minamitsurugun, Yamanashi 401-0301

Booking.com
ALLADIN Indian restaurant
Address

6713-1 Funatsu, Kawaguchikomachi, Minamitsurugun, Yamanashi 401-0301

OPEN

11:00-15:00, 17:00-23:00

TEL

0555-72-6755

Halal Gourmet Japan
Related Article
[bc url="https://www.halalmedia.jp/ja/archives/19367/syariah-hotel-fujisan-opened-nearby-mt-fuji/"]