Awesome Turkish Kebab from Roppongi ~The Art of Heavenly-flavor-kebab Dining at 24H Restaurant, Deniz~
Writer : Farid Putra (www.faridputra.com)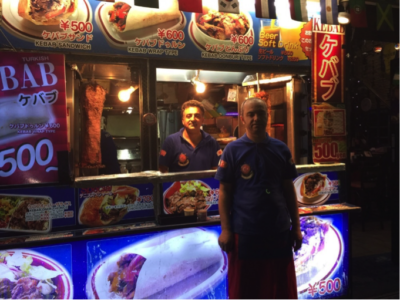 The story begins when I am at home with my family. Despite the holiday, we are not going anywhere except family time hanging around talking. And a moment later it felt like I need to eat something juicy, meaty halal food menu, whatever it is a chicken, lamb, or beef (always my favorite).
By the way, the hunger is coming simply because I did not eat anything for dinner yet. Suddenly, my phone rang and it was my father calling my number. Since he was driving on the way home, and still near the Azabu and Roppongi area, he offered some kebabs so that I could taste some different brand of kebab, of course, the halal one. And I am happily ordered for the kebab sandwich, some of them are beef and some chicken-sand kebabs with a combination of mild, medium hot, and super hot sauce. Actually, kebab food restaurant I ordered from is called Deniz. I still remembered when the food just arrived at a home, my father gave me the package and I just opened it with big eyes saying "Wow!"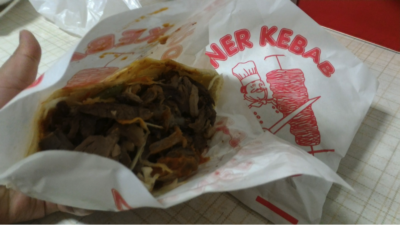 First one, I tasted beef kebab. I have never tasted this kind of kebab flavor before. There is spiciness coming from inside, gorgeous meat in a good portion, gravy, fully stacked with cabbage, special kebab sauce, mild mayo, it has a nice sensation especially when you just hold it in your hand because it is just full of the kebab content. It is very awesome, there is a sound of cabbage so fresh, made me happy and feels energized, it is quite a stamina food. This is a whole different level. I could say this is one of the best kebabs I have ever tasted in Japan. By the way, I have tasted a lot of different halal kebabs here before, especially in Tokyo until this article is written.
Next stuff is the chicken kebabs. It generates the feeling of flavor medium salty grilled chicken, plus it is just so juicy. The mild one is great, but if you like spicy go for super hot or at least medium hot. The side kick of the sauce is unbelievably good. The chicken is so tender, definitely worth to eat.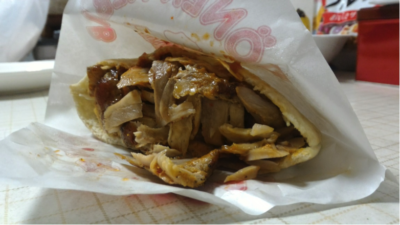 All these kebabs making a great impression and really change my perspective. Because in my opinion before, even if I am tasting kebabs such as beef, chicken, or lamb, I just assume the flavor is just similar or just same with each other, not that much different. But if you actually taste it carefully. It really is different. The varieties of kebab gave each kebab the authenticity of its restaurant and the brand. Even though in Tokyo there are so many kebab places, you will see and will taste the difference just by going to the place one by one. The flavor, the aura, the smells, and the services. I really recommend that you try some of them, and just go around hunting halal kebab too. You can go back to hunting another halal food such as ramen and yakiniku if you just boring with kebab. But trust me, you won't be bored by the taste of difference of kebab here in Japan. They will surprise you all the time with the character of the kebab menu and the unique design of the place.
The other day, I came to Roppongi to check the restaurant to know more about what is it like. I learned that on the same street there are three different Turkish dining restaurant. And all of them selling kebabs for their main menu. Deniz restaurant has a different unique point which is the color they are using, all blue interior design for its restaurant. If you want to know or order the different Turkish menu other than the kebab, maybe you could enjoy more and get a seat on the second floor. Overall, this kebab volume is just surprising me. They put a lot of meats on the foods they serve which the price is ranging from 500 until 900 yen for kebab menu. I mean it is definitely a lot of meat with a big portion which is good cost performance.
You could find Deniz location so easily because it is on the side of the main Roppongi 5-Chome, Gaien Higashi street. One advice from me that if you are going from Gotanda area, there is a Toei Bus which will stop very near with this restaurant at Roppongi. The good thing about this restaurant is they are operating 24-hour. Now, the choice is yours. You can find the detail of its address below : 〒106-0032 Tokyo-to, Minato-ku, Roppongi, 3 Chome−13−10, Kita Azabu Building 1F and 2F.