A 10 Years Old Kebab Cafe in Roppongi! "Kader Kebab"
Written by Rahmania Radjadi (www.rahmaniaradjadi.com)
Turkish Restaurant Kader Kebab has been open their cafe since 10 years ago. The restaurant is located in Roppongi at 106-0032, 3 Chome-12-5 Roppongi, Minato, Tokyo and open for 24 hours and 7 days a week. If you walk to the street where they located, you will find about 3 kebab shops, Kader Kebab is the one that closest to TGI Fridays Roppongi.


When I walked in, the strong feel of Turkish decoration is welcomed me. There was about 24 seats inside the cafe, the waiter let me choose my seat freely. On the table there is a menu that is waiting and ready to be choose.
They have many food for you to offer. They have kebabs variations. big meals, paste, humus, salads, and grills. I ordered a kebab sands and a kebab wrap, such a classic choices of mine. I chose kebab because some people around says that they known of their delicious kebabs.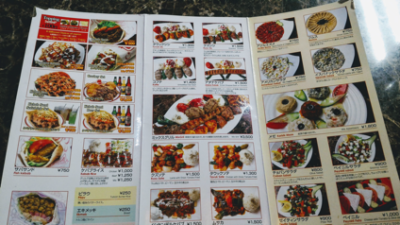 There are 2 options for the kebab sand which are chicken kebab sand, beef kebab sand. I chose the mix one. At first I was enjoy every bites, but after about 5 bites I realize that there is so much oil inside, so
greasy until finally it made me feel a little bit like "OK, that's too much oil". Overall, the taste was good, if only the oil that came from the chicken is not that much I would really enjoy it.
The price to get one kebab sand in Kader Kebab is 500 Yen.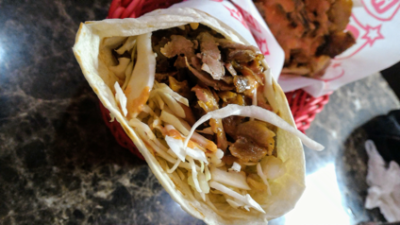 They offer 3 options of kebab wrap in the cafe, which are chicken meat, beef meat, and mix (which is a mix between chicken meat and beef meet). The kebab wrap taste is pretty standard, but still good and enjoyable.
Unfortunately, just as like the kebab sand, the chicken meat had too much oil in it which made the cabbage feel soaked from the oil. Well, that day might be not my lucky day at the Kader Kebab, because I remember looking the people surrounding who were also eating at the restaurant, they all seems enjoy their meal and not looked complain at all.
Also, in this restaurant, you have to buy the drink. There is no free drink that comes with the meal you order.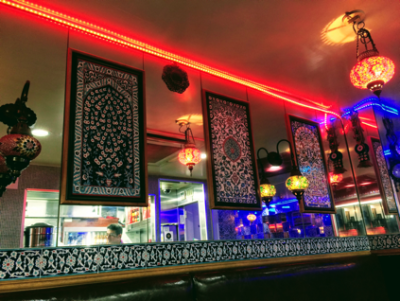 If you are a big fan of kebab meals and Turkish meal, you will love this restaurant. The atmosphere is cozy and you definitely can be a place for a small meetup with friends to hangout and have some chats.


The decorations was soothing and made me comfortable to sit inside for more than 30 minutes.