A 17 Years Old Kebab Shop in Harajuku! "Kebab Box J"
Written by Rahmania Radjadi (www.rahmaniaradjadi.com)
If you are following Halal Media Japan, you must realize that I wrote reviews of some kebab cafes and shops in Tokyo. This time I got the chance again to taste one of the great one kebab shop in Tokyo. From all of my review, only 2 shops that is old enough to hold a good reputation and this one is one of them.


Kebab Box J, a small kebab shop with 7 seats located in Harajuku, Tokyo. When I asked the owner, Harry (most Japanese called him Harry because they cannot pronounce his original arabian name correctly), his original name is Khairullah, I asked him how long the shop has been open and he answered 17 years. Harry was friendly, he was trying to speak with me in Bahasa Indonesia saying "thank you and welcome" after I told him where I come from. Kebab Box J has their own website and if you see on the company section, clearly you will see that the shop was established in 2000.


This Kebab shop also one of kebab shop that has many options for sauces. The food menu is pretty much standard for a kebab shop. I order kebab rice and a regular kebab sand. Kebab Box J also have another shop that selling long potato fries which I observed is pretty much popular among Japanese.
Finding this shop location is not hard, it's located near H&M and Forever 21 Harajuku. If you are roaming around there, you will find the shop easily.
Location: 1-8-8 Jingumae Shibuya-ku, Tokyo 150-0001 COXY 188 Building 1F TEL 03-3470-0706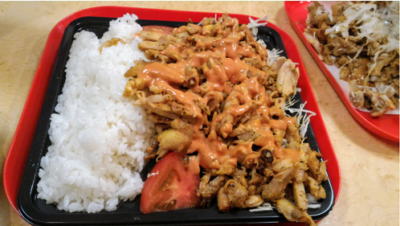 When the kebab rice is served in front of me, my reaction was between amazed by how much of the meat are served also happy because I love kebab meats so much. They only sell chicken meat kebab on the shop.
The portion of this rice kebab is large and I guaranteed it will make your stomach full of you order extra meat too. I chose spicy sauce and as you can see on the picture that the sauce is poured over the meat. Under the meat, you will find I bunch of shredded cabbage.
The price to get one of this large kebab rice in Kebab Box J is 750 Yen and 650 Yen for a normal size one.


As I ordered the medium size one for the kebab sand, the portion is enough to make your stomach full. The kebab sand in this shop is a layer of meat, shredded cabbage, and meat again inside of a pita bread served with the sauce. I choose 2 sauces for this which are hot sauce and garlic sauce.
The first bite was succeed to made my eyes open wide-eyed. The mixture of the hot sauce and garlic sauce is so well suited with the chicken meat. The chicken is also tender and juicy.
The price to get one of this kebab sand on the shop is 500 yen for small size, 550 yen for medium size and 650 Yen for large.
If you are planning to for to Harajuku, this kebab shop is a must try. It's halal, the owner is friendly, and the food is delicious.