Halal Shumai Recipe ~Delicious side dish at home!~
Written by Rahmania Radjadi (www.rahmaniaradjadi.com)
Shumai or Siu Mai, originally a Chinese food but has already been socialized in Japan since long time ago. Usually shumai in Japan is made of pork meat. Now in this recipe we are going to make the halal version of shumai.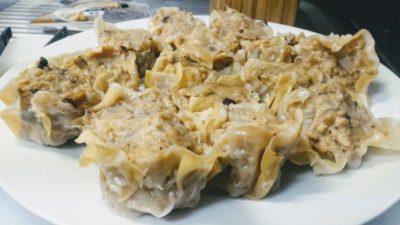 Shumai also a very common menu in a dimsum restaurant. I have tried making my own halal shumai at home and I have three recipe versions which is chicken, shrimp, and the vegan version which I will share with you too next time on Halal Media Japan.
You really have to try this recipe because they are really awesomely-delicious. This recipe could give you about 30 shumai.
Fillings ingredients
・ 2 large boneless and skinless chicken thighs (use the halal ones)
・ 1 onion
・ 3 large dried shiitake mushroom
・ 1 tablespoon grated ginger
・ 2 tablespoons soy sauce (use the non-alcohol one)
・ 1⁄2 tablespoon salt
・ 1 tablespoon sugar
・ 1⁄2 tablespoon pepper
・ 2 tablespoons apple juice (use as sake substitute but also optional to use)
・ 3-6 tablespoons corn starch (use as much you need it)
・ 2 tablespoons sesame oil
・ 2 grated garlic cloves
Other ingredients and sauce
・ 1 pack shumai wrappers use a pack of gyoza wrapper with 30 pieces inside)
・ 4-6 cup of water
・ 2 tablespoons of soy sauce
・ 4 tablespoon of tomato sauce
・ 1 table spoon of sugar
・ 2 tablespoons of worchester sauce
・ salt
・ pepper
Cooking instructions
Remove the chicken fat
Cut the chicken into cube size
Ground the chicken meat using the food processor, so that you will have ground chicken. If you
don't have food processor, you could use 2 knife and ground the chicken manually
Put the ground chicken in a mixing bowl
Chop the onion finely into small pieces
Soak the dried shiitake mushroom in a warm water for about 30-45 minutes
Cut the mushroom stems and chop it finely
Add the chopped onion and mushroom to the mixing bowl and mix it well with the chicken
Add the ginger, garlic, soy sauce, apple juice, sugar, salt, and pepper to the mixing bowl and mix it well again until all mixed
Add the sesame oil and mix it again
Add the corn starch and mix it until all mixed and the filling is ready to wrap
Wrap the fillings with the shumai or gyoza wrappers one by one. Shape it into small cylinders


Jpeg

Prepare you steamer by pour 4-6 cup of water into the steamer and boil the water in high heat
When the water is boiling, change the heat into medium
Lay some lettuce or cabbage in the steamer so that the shumai won't stick to the bottom
Steam the shumai for 10 minutes

When you are waiting, make the sauce by mixing the soy sauce, tomato sauce, worchester sauce, sugar, a pinch of salt and pepper.
Mixed them well
After 10 minutes, turn off the heat and you shumai is ready to serve!


Jpeg


You can add shredded carrots on top before the steaming process if you want some toppings on your shumai. I hope you like the recipe as much as I am.