Halal Indian Restaurant in Shinagawa
Written by Rahmania Radjadi (www.rahmaniaradjadi.com)
Shinagawa is one of the busy tourist places in Tokyo. It has some great hotels that become top choices for tourists to stay during their visit to Tokyo. Not only tourist but also Shinagawa is one of the top business area in Tokyo, the location of top internationals company offices.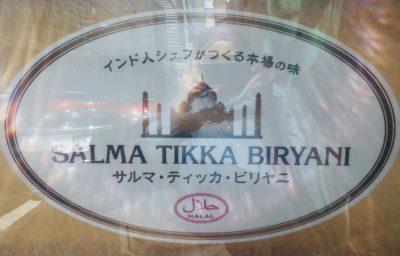 Shinagawa station is also known to be one of the busiest train station in Tokyo during the rush hour, thanks to the interchange train location. When it comes to halal Indian food, Shinagawa could be the destination.
Salma Tikka Biryani is apparently a popular Indian restaurant in Shinagawa. You only need to walk about 10-15 minutes from the station to get to the restaurant. I was surprised at how packed the restaurant is during the lunchtime. One of the reasons why it's popular is the price they offer is so affordable.
They offer all you can eat buffet menu for lunch with a price of JPY 1000, before tax. As I mentioned before, it is affordable. I ordered a buffet and a chicken biryani rice.
Buffet Menu
The buffet menu is consist of chicken tikka masala, two types of curry which are lamb curry and peanut curry, salad, naan bread, and rice. You can eat as much as you want for a time of 90 minutes.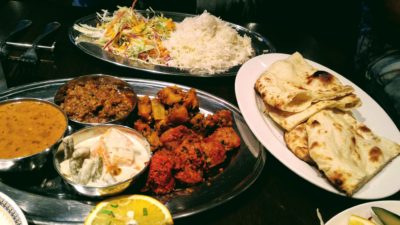 The taste of the chicken was delicious, I could taste the spices there. The peanut curry also really good. The best way to eat it was to dip the chicken tikka masala into the peanut curry, oh God, that was very delicious. I don't really like the lamb curry, not only because it has lamb on it but also the texture is kind of weird in my tongue. The naan bread is pretty much a regular naan bread same with the rice which is a regular basmati rice. The salad has a yogurt dressing and the taste was okay.
Chicken Biryani Rice
You might be wondering why did I order a chicken biryani rice while I ordered an all you can eat buffet menu. It was because I was observed that almost every table at the restaurant that day ordered a biryani rice. I was wondering how delicious it was because it looks popular.
When the plate arrived at my table, my oh my, the portion was huge! I thought it could feed about 2 people. The chicken biryani rice came with a bowl of peanut curry (the same one with the buffet) a bowl of salad with yogurt dressing, and a yogurt drink.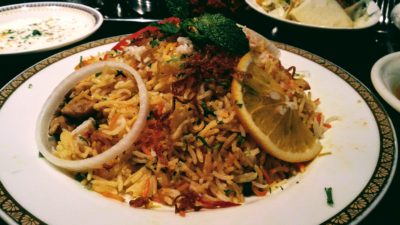 The taste of the chicken biryani rice was delicious and satisfying but wasn't the best one. I have tasted so many chicken biryani rice and I know how a very delicious chicken biryani rice taste is.
The price to get a set of a chicken biryani rice in the restaurant is JPY 1200, before tax.
If you are around Shinagawa and looking for a halal restaurant, this restaurant is really worth to try.
Location
ADDRESS

Tokyo, Minato, Takanawa, 4 Chome−22-11

OPEN

LUNCH: 11:30 – 15:00
DINER: 17:00 – 23:00

TEL

03-3449-5302