Old Fashioned Middle East Dessert 'Baklava' and Tortillas Highlight
Writer : FARID PUTRA (www.faridputra.com)
For a long period of time like several months, I did not have a chance to go to Costco, my favorite kind of a big supermarket. I wanted to go there, but recent months I have experimented and only trying to buy groceries near my place such as My Basket, Tokyu Store, and Hanamasa supermarket near my office. And if my family want to stock some meats on the fridge, we always find the fresh halal beef, knuckle part of the cow, from the Nissin. Then also some of the boneless chicken breast and chicken thighs on the frozen halal section. Without going to Costco, although it is quite serving my needs for groceries, I just feel something missing. Missing the awesome stuff with halal signature on it such as Medjool dates fruit from Natural Delights, or some lamb meats by Thomas Farm brand I could find at Costco before.
So, in early September 2017 sometime on the weekend, I went to the Costco Kawasaki, the nearest branch of Costco if you go there from downtown Tokyo. I am going with my family, driving a car. If you are like me who likes to stumble upon new products or big size package of stuff, Costco will give you a bright side of adventure inside the store right after you entered the entrance after showing your membership card. For people who do not know yet, the membership of Costco is JPY 4400 tax excluded for Gold Star Member (individual family) and JPY 3850 tax excluded for Business Member. It is worth it so you might probably try.
This time I am hunting some halal products again and found two products I recommend that you could buy besides my previous Costco article before Top 3 Halal Must Buy Products at Costco.
First one is Baklava. This type of sweet treats originally came from Turkey and the rest of middle east.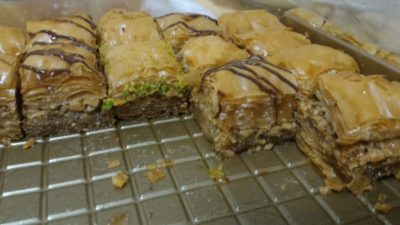 But to my surprise, I found that this very nice 910 gram package of Baklava products' country of origin is from Croatia. These very delightful assortments filled with cashew, walnut, and almond on each flavor of regular Baklava, chocolate drizzle Baklava and pistachio garnish Baklava. It came with square form and triangle form. If you never try this kind of sweets, for your precaution these all have a really sweet flavor. However, if you combine eating Baklava and drinking some milk, it is surprisingly very great combination. It may beat the combination of Oreo cookies and milk. Since this product also contains honey, and no trans fat, no corn syrup, and no artificial colors, flavors, preservatives, it is comparably healthy. Even though the price is a little bit expensive approximately JPY 2000 for 57 pieces, you might want to try this once in a while.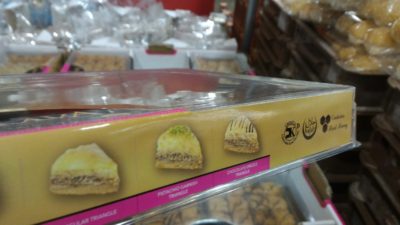 The second halal product is ten-inch flour tortillas. Tortilla origin is from Mexico, it is a form of flatbread made from ground wheat flour. And the flour tortilla is derived from the corn-based bread of maize.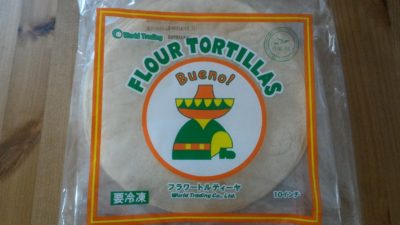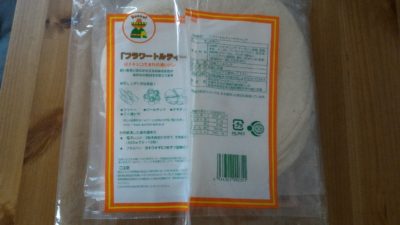 If you ever heard of Mexican cuisines such as burritos and tacos, the tortilla is basically the outer layer which will wrap the inside of your burritos and tacos. The package includes four sets and each set contain 10 tortillas, so this product has quite a lot of portion. It cost around JPY 1300.
Ok, that would be all, and I will cover some tortilla recipes in another article.