Highlight Video
Halal Expo Japan 2017, that had been held on Nov 21-23 2017 at Taitokan, Asakusa, Tokyo, had been ended successfully, brought abundance of new and fresh contents which attracted visitors, companies, buyers, and of course, both Japan and overseas media.
There were 7,869 visitors came to the venue on 3 days expo with 113 booths, both Japan and overseas exhibitors.
Continuing Halal Expo Japan 2016's success, popular and attractive muslim fashion show also being held on Halal Expo Japan 2017, showed modest fashion design by both Japan and overseas talented designers.
Furthermore, there was the first-ever Generation M Award, where talented young designers from Malaysia and Indonesia put their step to final round in Tokyo, presenting their fresh yet unique and original design, that made audience could not take their eyes off.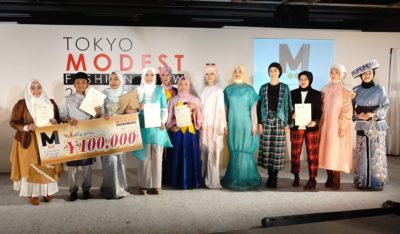 There we can see and feel that, Japan is, continuously, giving effort to penetrate Muslim market, by expanding and providing many halal and muslim friendly foods, products, and services.
From very popular wagyu until fashion, Halal Expo Japan served an important platform for both companies and customers to meet and let customers, both Muslims and Japanese, to know more about halal and muslim friendly services in Japan.
Want to see how Halal Expo Japan 2017 was?
Check this video out!