Tourist Spots Selection at Komatsu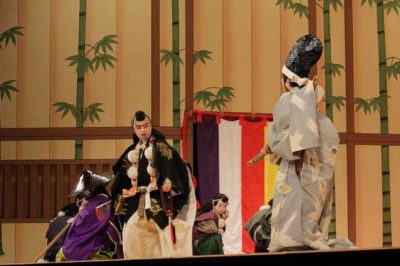 Komatsu city in Ishikawa Prefecture is a city known as its traditional culture such as kabuki and tea ceremony, and beautiful handcraft that is continuously kept since Edo Period. Besides, richness of nature is one of attractive point of Komatsu city.
Moreover, transportation in and to Komatsu city is excellent and comfortable, both airport, JR (train), and highway. Komatsu Airport provides regular flight both domestic (Sapporo, Sendai, Haneda, Narita, Fukuoka, Naha) and international flight (Seoul, Shanghai, Taiwan), which can be reached only about 10 min by car from JR Komatsu station or about 5 min through Hokuriku Expressway Komatsu Inter. An excellent access to enjoy domestic trip.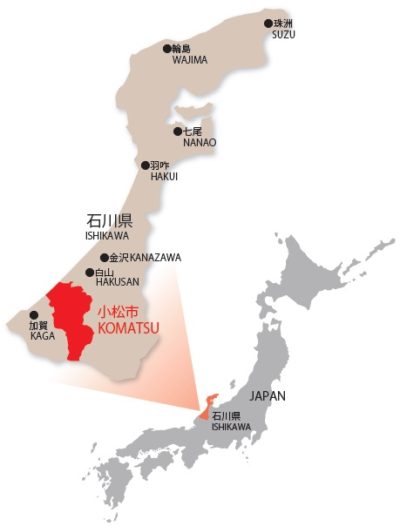 Not only domestic tourists, recently foreign tourists visit Komatsu along with Kanazawa area which is located nearby (Kanazawa can be accessed about 30 min by train from Komatsu).
This time, we would like to introduce attractive tourists spots in Komatsu city!
Must Visit Tourists Spots in Komatsu!
Komatsu, City of Kabuki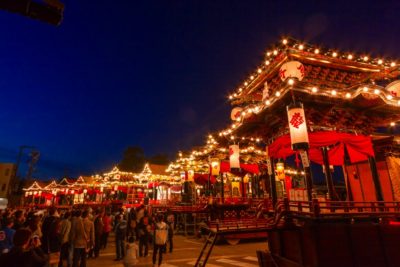 Every year on May, a Kabuki show "Hikiyama Children Kabuki" is being held on Otabi Festival, well-known as one of the three biggest Japanese children kabuki in Japan.
Continuously kept since Edo Period on 250 years ago, Hikiyama Children Kabuki performed mainly by little girls on the top of gorgeous Hikiyama, boasts the audience with their amazing performance.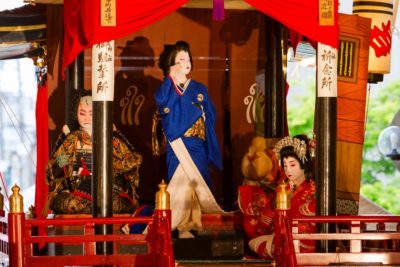 Located just 10 min from Komatsu Airport, there is Ataka Sumiyoshi Shrine well-known as power spot in Japan to overcome difficulties, beside the famous Atakanoseki on Kabuki performance "Kanjincho" stage.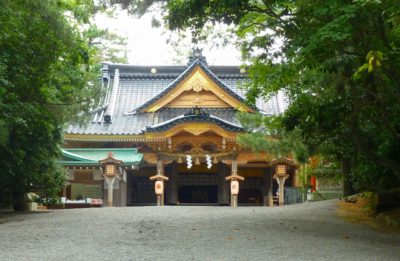 At Komatsu Hikiyama-Koryukan Miyossa located just a few min walk from JR Komatsu station, we can enjoy the powerful appearance of 2 Hikiyama performance's properties, which is performed in Otabi Festival, displayed permanently there.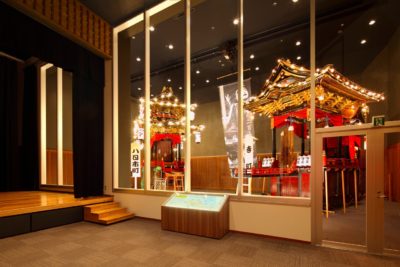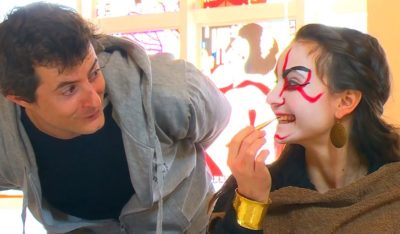 Besides, we can enjoy Kabuki-style make-up or Japanese traditional music tools "Shamisen", gives us experience to see, listen, and touch the kabuki world at Komatsu.
Natadera, a 1300 Years Old Shrine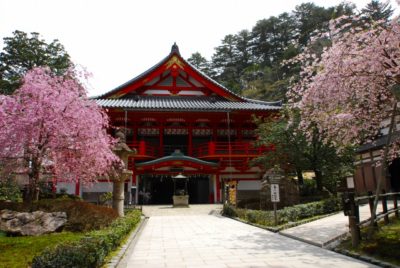 Natadera is a 1300 years old shrine with a long and distinguished history, continuously keep and follow the teaching of Jinenchi (human existence is there because the existence of nature), a shrine dedicated for god of nature.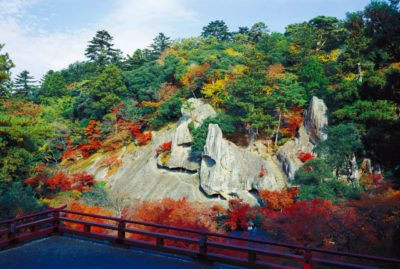 In 230,000 square meters on a premise of Natadera, we can enjoy colorful autumn leaves and nature-made an oddly-shaped rock outcroppings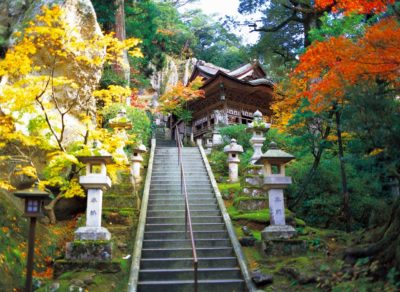 Long 1300 years of history left number of precious buildings. Seven buildings, including the main hall and triple tower are designated as country's important cultural properties.
Furthermore, clean water spot "The Miraculous Fudomyoo" or "akasui" known as a power spot said that able to increase luck by put the water to the body while holding a wish.
Mount Haku, which is known as one of The Three Famous Mountain in Japan or called "Nihon Sanmeizan(3 famous Mountains in Japan)", together with Mount Fuji and Mount Tate, is one of symbol of Ishikawa Prefecture.We can enjoy the nature of Mount Haku from Kibagata Park.
On the middle of the park, there is a lake surrounded by 6.4 km sidewalk. Here we can have a walk while enjoying great view of beautiful Mount Haku and lake at the same time.
Nearest station of Natadera and Kibagata Park is JR Awazu station, each can be accessed 10-15 min by car/taxi from JR Awazu station.
"Hiyo Moss Garden", a Garden Surrounded by Beautiful Japanese Cedar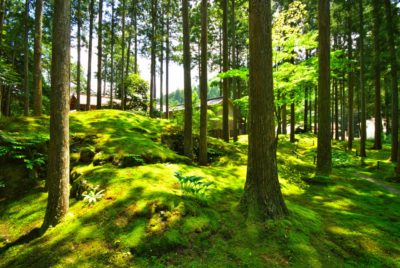 Hiyo Moss Garden is one of famous place to enjoy seeing moss in Japan, highly regarded by both domestic and abroad. A sightseeing spot of beautiful Satoyama village where we can enjoy beautiful garden surrounded by cedar forest, shrine, old Japanese-style house etc.
It had been chosen as one of 100 selections of national rural landscape surrounded by moss. Moss as a plant reflects Japanese culture, is being used in Japan national song.
Sunny, semi-shaded, and shaded area, each environment let various of moss to growth. According to the expert, there are approximately 48 types of moss presence inside the town.
Currently, Hiyo Moss Garden Preservation Council preserves the moss garden as "Moss of Sato".
Muslim-Friendly Restaurant
There are restaurants serve muslim-friendly menu in Komatsu city.
Kajisuke (Japanese Food)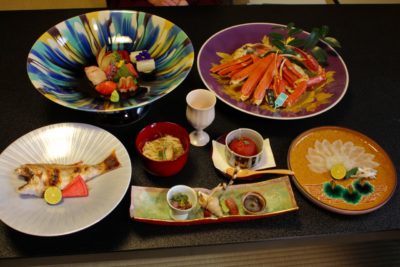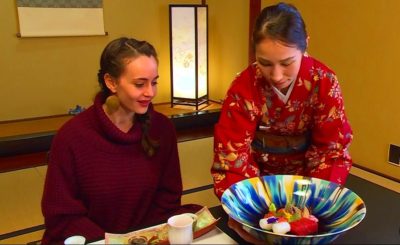 Genre

Kaiseki (multi-course meals with small portions), Kappo (Japanese-style cooking)

Budget

(Lunch)¥3,000~¥3,999 (Dinner)¥8,000~¥9,999

TEL

0761-22-8314

Opening hour

11:30~13:30 / 17:00~22:00

Address

141 Yamato-cho, Komatsu-shi, Ishikawa Prefecture
La Petit Porte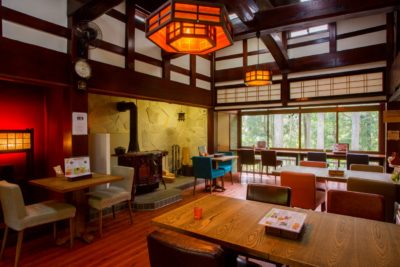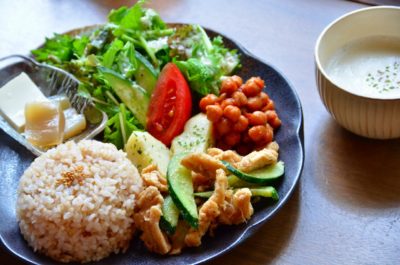 Genre

Cafe

Budget

¥1,000~¥1,999

TEL

0761-46-1565

Opening hour

10:00~18:00 / 18:00~21:00 [by advance reservation only]

Address

122 Seiryomachi-ka, Komatsu-shi, Ishikawa Prefecture
Yossi-Seisakusyo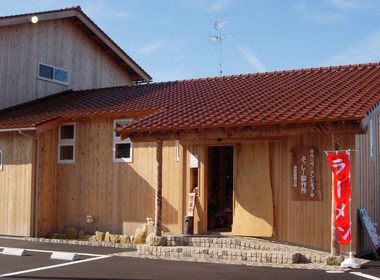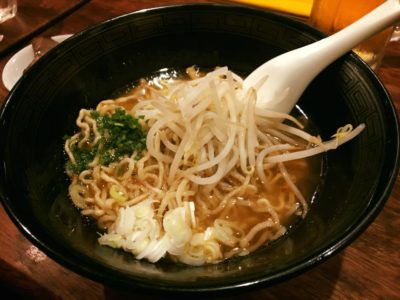 Genre

Ramen

Budget

〜¥1,000

TEL

0761-21-9899

Opening hou

11:00-14:30 / 17:30-21:30

Address

25-1 Okimachi-ro, Komatsu-shi, Ishikawa 923-0861
Komatsu Udon Dojo Tsurutto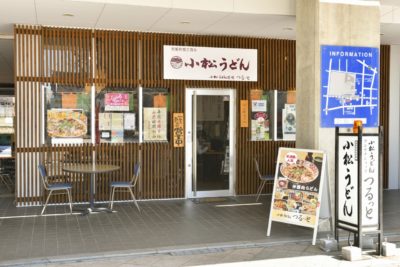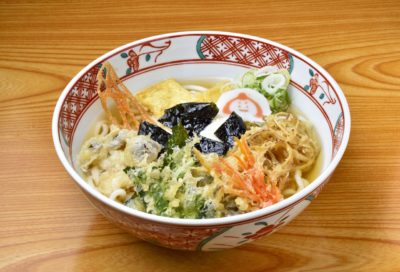 Genre

Udon, kare udon

Budget

〜¥1,000

TEL

0761-23-2217

Opening hour

10:30~20:00

Address

13-18 Doiharamachi, Komatsu-shi, Ishikawa (JR Komatsu station west exit)
※ There is prayer space at Komatsu Art Museum Urara we can use.
Komatsu, a city with deep history, rich of nature and arts.
A must-visit place for those who want to feel "Japan", apart from the hustle and bustle of big cities.