HALAL NAIL TOKYO, a Muslim-Friendly Nail Care Service
Decorating nails may give fresh and stylish look, however on the other side, Muslim women (Muslimah) refrain from using nail polish, as it makes a barrier on the surface to prevent water touch the nail directly, which makes it impossible to perform Wudu before praying.
HALAL NAIL TOKYO, with eagerness to let Muslimah enjoy the nail polish with fun, introduced muslim-friendly nail service and a made in Japan water-permeable nail polish, BIO Water Nail, on Halal Expo Japan 2017 which allows water to pass through.
Available in 3 beautiful colors, Bio Water Nail attracted Muslimahs on Halal Expo Japan 2017!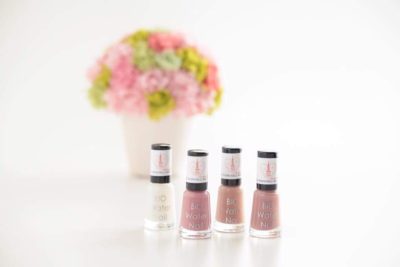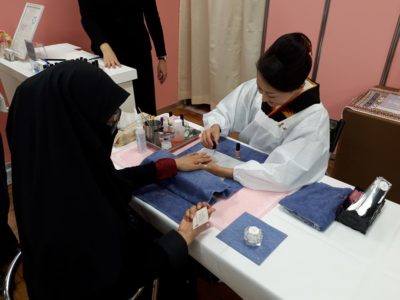 Provide gentle yet muslim-friendly nail service and nail polish with reasonable price is the concept of HALAL NAIL TOKYO.
HALAL NAIL TOKYO only dealing with muslim-friendly nail products and only receive women customer.
Moreover, they serve a home-visit nail service where Muslimah customers can have their nail care time in private situation.
Services
HALAL NAIL TOKYO has regular course, consists of nail filling, polisher, and single color manicure for only JPY 4,000!
Regular course takes approximately 30 minutes.
Of course, there is other services too, such as hand massage (10 min, JPY 1,000) or decoration nail (JPY 500/finger).
Furthermore, HALAL NAIL TOKYO is now serving nail service for event where Muslimah can enjoy nail service together with loved family and friends. For event nail service, minimum service is 2 hours (JPY 2,000/hour) with minimum 8 person (negotiable).
Want to purchase BIO Water Nail nail polish?
Of course, HALAL NAIL TOKYO is also selling muslim-friendly nail polishes cost JPY 1,900 (exclude tax) per pcs.
※Besides of BIO Water Nail, there is also muslim-friendly water permeable peel off nail polish made in Canada, Tuesday in Love.
Contact
Hitomi Goto: goto5101103@icloud.com
Facebook : https://www.facebook.com/halalnail.tokyo/
Website : https://www.halalnail-tokyo.jp/