Muslim-Friendly Service at Yugaf Inn Hotel, Okinawa!
A long-established city resort hotel, Yugaf Inn Hotel, in the-warmest-area-in-Japan, Okinawa, is a nice place to stay on your travelling or business trip. This hotel serves you not only comfort while staying there, but also great landscape of beautiful blue ocean combined with blue sky.

Access
Yugaf Inn Hotel is located close to ocean, give you nice access to enjoy the beach!
You can access Yugaf Inn whether by taxi or bus.
http://www.yugaf.com/access/
Via taxi
From Naha airport, you can take a taxi through Okinawa expressway, it will take about 1 hour and 10 minutes with taxi fare JPY 12,000.
Via express bus
This bus depart from Naha airport, it will take 1 hour and 45 minutes with fare JPY 2,190 until Yugaf Inn Hotel.
Halal Foods
Looking for halal foods is always becoming a challenge for Muslim tourists, especially when visiting countryside where tourists still not familiar with, like they are with major cities like Tokyo and Osaka.
However, if you stay at Yugaf Inn Hotel on your visit to Okinawa, you can have delicious halal foods there!
Halal foods served here are halal-certified by NAHA, using halal-certified meat, cooked by cooking tools in kitchen separated with non-halal foods.
Halal foods at Yugaf Inn is available in Halal Japanese-Ryukyu Tray Set Menu (JPY 4,000 exc. tax and service charge) and Halal Tempura Tray Set Menu (JPY 2,500 exc. tax and service charge).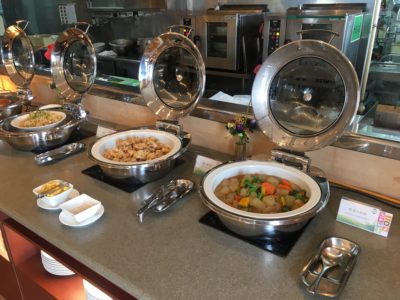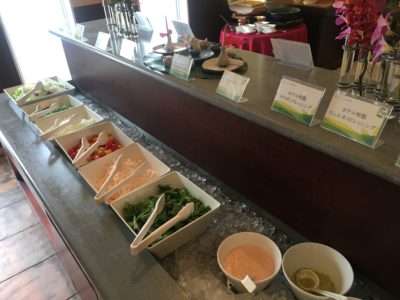 Breakfast and lunch are served in buffet style and they put halal label on halal dishes!
Good news is, you can enjoy halal dishes at Yugaf Inn even though you do not stay there! (for lunch only)
※ Muslim-friendly menu
http://www.yugaf.com/folder25/menu_EN.pdf
※ Need reservation for dinner
Green cookware is only for Halal.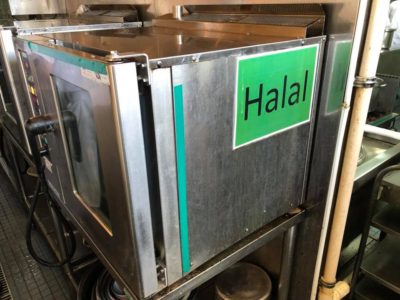 Prayer space
Besides of halal foods, prayer space is also available here!
This prayer space is quite large, completely equipped with prayer mat, disposable slipper and bowl for wudu', and prayer timetable!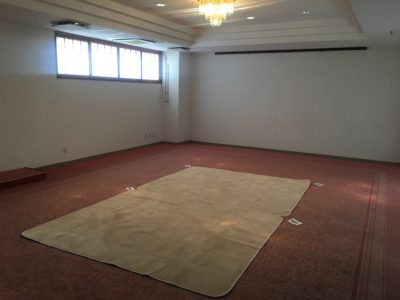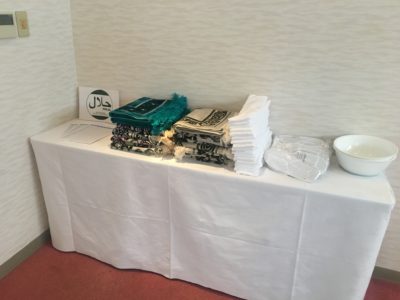 Muslim-friendly service in Yugaf Inn not stop there.
Besides halal foods and prayer space, there is muslim-friendly service in guest rooms, where pray equipment such as prayer rug, prayer time table for Okinawa area, and Kiblat direction are available!
Tel

0980-53-0031

Address

453-1 Miyazato, Nago-shi, Okinawa 905-0011

Website

Halal Gourmet Japan

Japan Masjid Finder