Having Traditional Tea Ceremony Experience in The Center of Tokyo, Ginza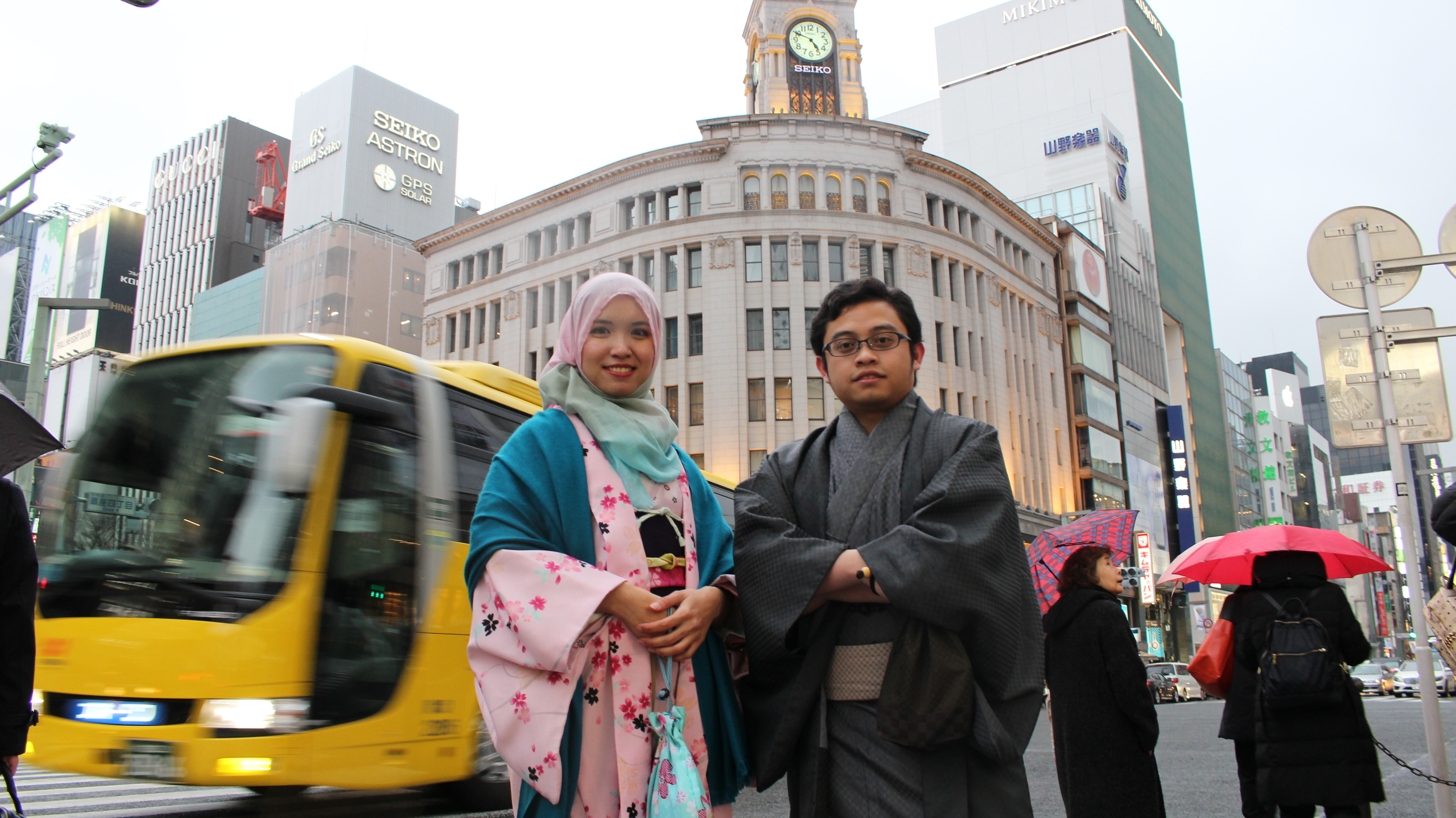 Speaking of "Ginza", this the-very-center-of-Tokyo area has strong image of luxury brand's shops and offices.
Do you know that you can have a traditional tea ceremony experience here in Ginza?
Yes, you can have it at "Chazen"!
First of All, Wear Kimono!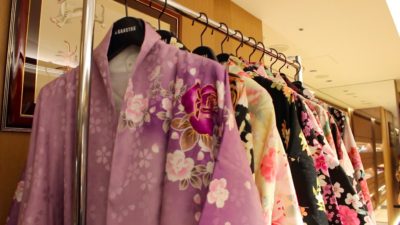 Before trying the tea ceremony, we need to let ourselves proper first for the ceremony.
So first of all, we visit kimono rental shop which is located 5 min walk from Ginza Station. .
Course available at Chazen serves option for "kimono rental" that you can check here.
Here we can choose kimono as we like.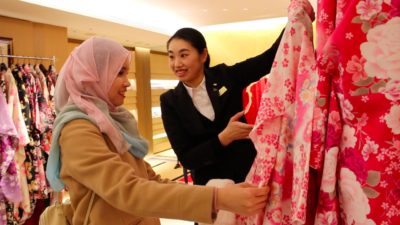 The staffs are able to speak English, so don't worry to communicate!
You can ask freely about whether their recommendation which kimono suits you or advice in wearing kimono.
Have a Walk around Ginza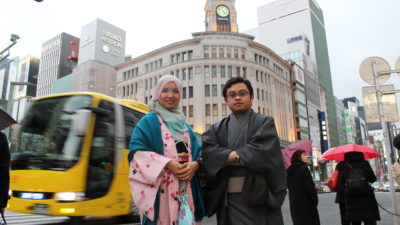 After get change into kimono, now let's move to the tea ceremony room!
Maybe you often heard about wear traditional kimono in traditional places,
But here, you can experience having a walk in kimono, in the most fashionable area in Tokyo, Ginza,
Which is almost impossible to have it anywhere else!
It makes this shop became so popular among foreign tourists.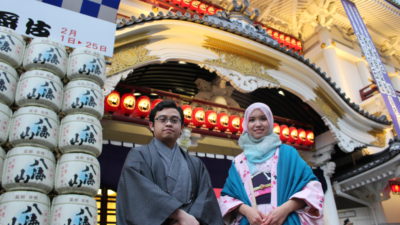 Been Eagerly Awaited, Tea Ceremony Experience!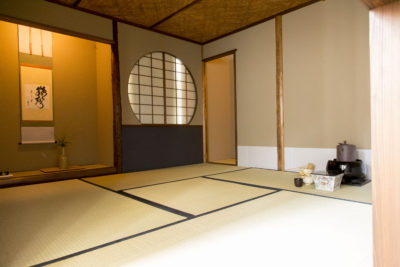 Tea ceremony is held in tea ceremony room, located right beside Kabuki teather.
Meet The Instructor!
With more than 30 years experiences in tea ceremony and 20 years experiences as instructor, Takeda sensei has more than 5.000 students. She politely guides us during the ceremony.
Learn Do's and Don'ts During Tea Ceremony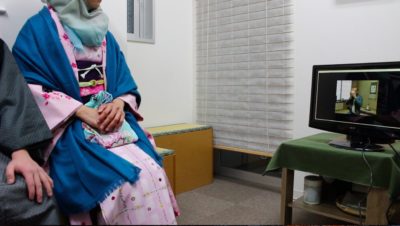 At first, you will have to see a video provided for approximately 10 minutes to learn do's and don'ts while having tea ceremony.
Make Matcha Powder on Your Own!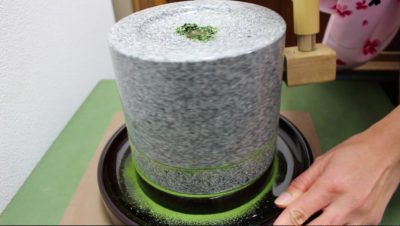 After finished the video, we can experience making matcha powder on your own by using a hand mill called chausu.
Matcha powder here will be used as ingredients for tea ceremony.
Come in to the Tea Ceremony Room!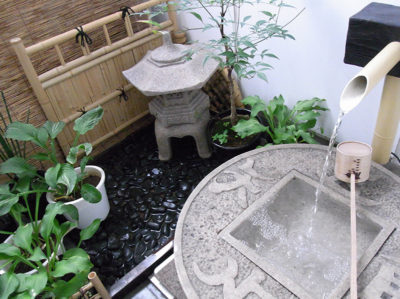 We need to clean our hand first before entering tea ceremony room.
There is nijiriguchi, a small door which leads into tea ceremony room, where we need to lower down our head and body to enter the room.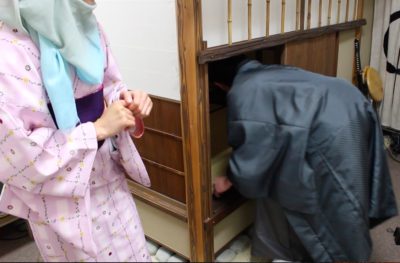 Why bother to enter the room from such entrance?
It has a lot of history!
Here you can learn the background of every move, every detail in tea ceremony.
This is the recommended place for you, especially who love Japanese history!
The Absolute Delish of Cute Japanese Sweets!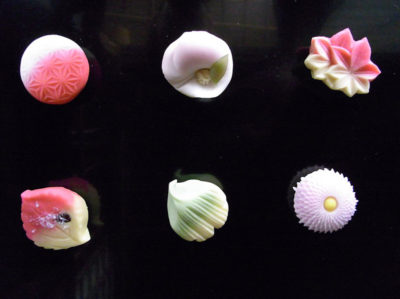 Japanese sweets changes through seasons.
This was the first time for our Muslim reporters to have Japanese sweets,
And it made them almost cry with the deliciousness.
Japanese sweets are made from beans and sugar only, which is muslim-friendly!
Make Your Own Tea!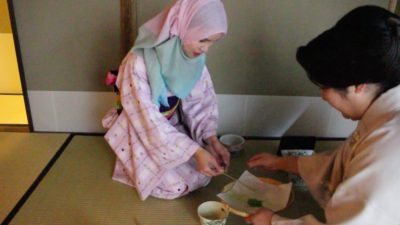 Here in Chazen, you can make your own tea by looking at example performed by instructor!
Nice Muslim-Friendly Service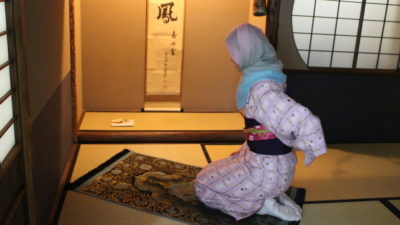 Besides prayer mat and wudu' space available on the site, there is souvenir corner with a lot of so-Japanese-style tea ceremony related items that will get your eyes on.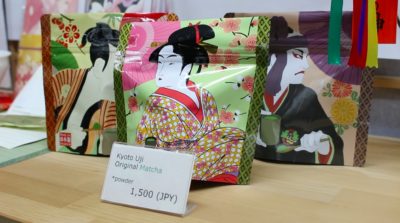 Fee and Reservation
For tea ceremony experience only costs 3,500 yen, while tea ceremony + kimono costs in range 6,800〜8,500 yen
You can make reservation here.
Find Video Below for More Detail
Halal Restaurant Nearby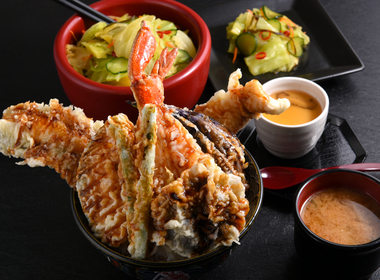 Together with "Chazen",Tendon Shop Ginza Itsuki is our recommendation.
Located very close with both Subway Ginza station and JR Yurakucho station,
Very comfort to visit the shop before or after enjoying tea ceremony at Chazen.
Chazen, comfort access and in nice place in the very center of Tokyo.
If you come to Tokyo, add tea ceremony experience on your bucket list!
About Chazen
Open

10:00~18:00

Address

Ginza Ishikawa Building 5F, 4-12-17 Ginza, Chuo-ku, Tokyo

TEL

03-6264-0690

WEB SITE