Hungry for Halal Curry?
Written by: Farid P.
In Japan, there is one of the best halal friendly product for curry paste with the forms of mini-square blocks. It is Japanese-style curry sauce mix called "Golden Curry" with a green label, no-animal derivatives so it should be safe.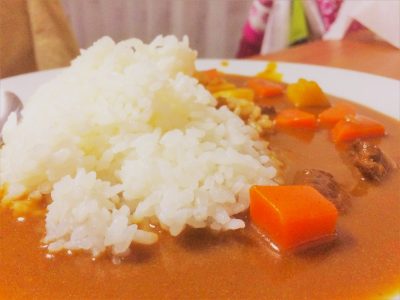 This product made by a big spices company, S&B Foods Inc. You probably have ever heard this brand from a variety of spice and condiment products in a lot of store-shelf at convenience store, supermarket, and big grocery store. You probably are using some of their seasonings such as salt and pepper too.
This Golden Curry can be purchased through Amazon that covered delivery throughout Japan.
On Amazon, try to type 'halal curry' on the search box, it will pop up some results. Choose the no-animal derived S&B Golden Curry with a green label on it.
Otherwise simply use this direct link to Golden Curry green label page.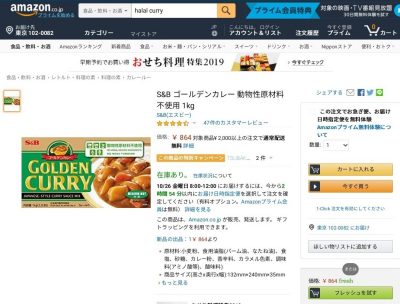 This halal friendly S&B curry is only limited to the medium hot flavor. The spiciness is really a mild one, so you might want to prepare chili powder and add it to the curry to adjust the hotness.
The cube itself has 1 kg of net size and possibly can cook five times in a big pan, or ten portions in a small pan. I tried using two blocks of this curry paste while cooking a big portion for a family.
In making the curry, you need to stir fry the onions, carrot, potato, (you can add meat and some seasoning like Himalayan salt or white pepper), then add water, curry paste to the pan mix it until it is cooked. Of course, you can add some other item such as chocolate, yoghurt, or coffee as flavor enhancer.
After finished the cook, wait for 10-15 minutes then the roux will get thicker.
If you don't use all the paste, don't forget to store the remaining paste properly on the fridge after its opened.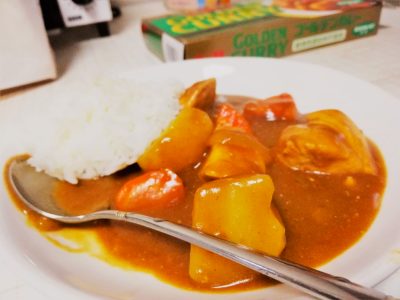 Now, it is the time. Enjoy your best halal curry at home!