Tsuki Usagi in Kobe has been serving Halal Kobe Beef course dishes!
Tsuki Usagi has been serving course dishes made from Halal Kobe beef provided by halal Kobe beef shop "Tasuya" in Kobe. Tsuki Usagi located at 5 minutes walk from Kobe-Sannomiya Station. This restaurant is known as a first restaurant which has started to serve Halal Kobe beef course in Kobe. Tsuki Usagi offer both lunch and dinner menus at the same price.
Related Link here!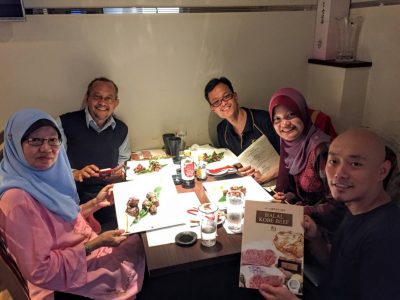 Course Menu
Currently, Tsuki Usagi has three choices as a main dish: Steak, Sukiyaki and Hoba Yaki. The price ranged from 11,000 yen to 35,000 yen per person. Lunch is available for groups of 2 or more , and dinner is available start from 1 person.
※Please notice that the price and menus may changed. It depends on the cuts of the meat or stock availability.
1.Appetizer (organic vegetables salad, simmered sweet potato (Naruto Kintoki) with lemon, simmered pumpkin, yuba (soymilk skin))
2.Tomato gazpacho (cold tomato soup)
3.Sashimi (sea bream, tuna, Spanish mackerel, pacific saury)
4.Tempura (flathead, matsutake mushroom)
5.Diced cut Halal Kobe beef steak (fillet and chuck eye roll) with okra and onion from Awaji-shima with soy sauce or Ponzu
6.Garlic rice
7.Soup of sea bream broth (matsutake mushroom/Japanese citrus)
8.Dessert (pear)
※All dishes are cooked with new kitchen utensils. Contains NO alcohol, NO pork-related ingredients. Tsuki Usagi use MARUJYU HALAL Soy sauce.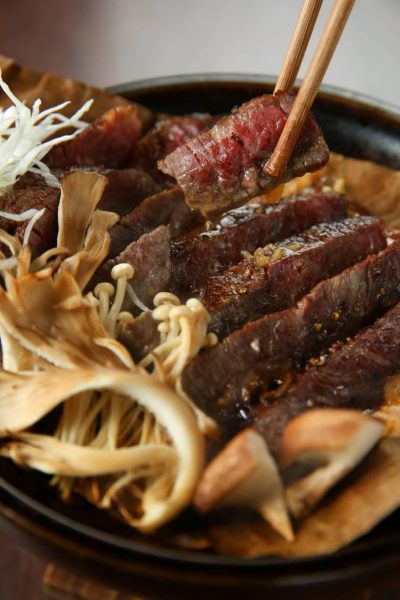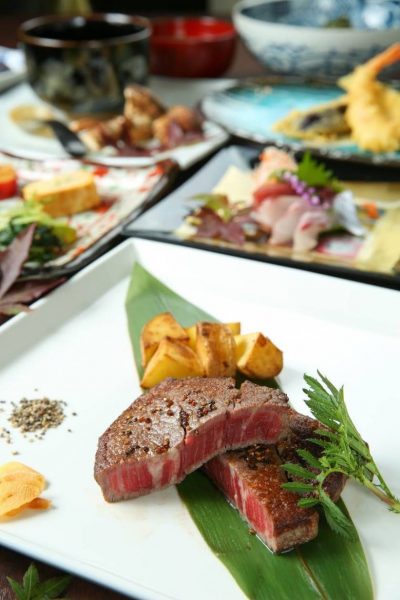 Explanatory Note
・Halal Kobe Beef has Halal certificate by Islamic Center Japan (TOKYO) and ESMA of UAE.
・Tsuki Usagi usually offers alcohol and pork dishes. But for Halal menus Tsuki Usagi uses the exclusive kitchen tools and tablewares when preparing the meals. All foods and seasonings are Halal in that course.
・Please make the payment 1 day in advance.  Tsuki Usagi will send E-invoice where you can use credit card.
・We can provide a space to pray if you need. It would be at the outside of the room, but there will be roof and it's a very quite space.
・Also, Kobe Mosque is a 5 minute-walk from Tsuki Usagi.
※Reservations should be made 1 day in advance.
Reservation (The person in charge: Lee)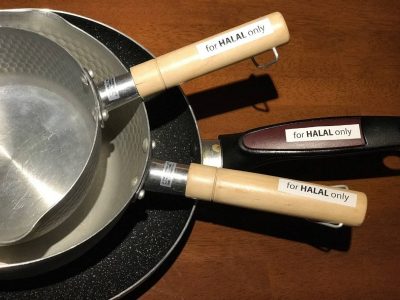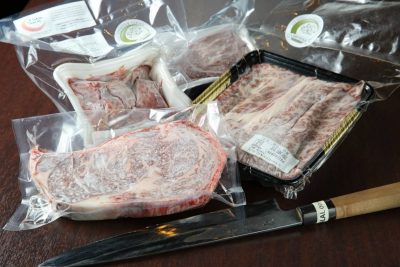 Please make a call to phone number below.
About Tsuki Usagi
Address

8F Grand Coast Building, 2-11-5, Kitanagasa-dori, Chuo-ku, Kobe, Hyogo Prefecture

TEL

078-325-3327

OPEN

Lunch 12:00~14:00, Dinner 17:00~00:00 (L.O.23:30) (Irregular hours)

Website

Halal Gourmet Japan