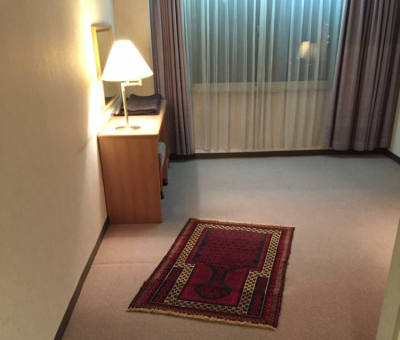 Do you know Okayama Prefecture?
Okayama Prefecture does muslim friendly correspondence. In Okayama there are many muslim friendly places. Especially Okayama Royal Hotel prepares a lot of muslim friendly things.
First of all, about prayer space.
You can pray for 24 hours in Okayama Royal Hotel. They prepare for one room as a prayer room. When you want to pray, you should tell that at a reception desk. Then a person in charge guide you.
Next, about the meal.
They prepare for the meal of buffet and the dining together form. In a case of buffet form, an ingredient is transcribed in English. In a case of the dining together form, it is possible for you to eat muslim friendly foods if you make a reservation beforehand.
Last of all, abut the souvenir.
What kinds of souvenirs do you buy in Okayama? Surprisingly Okayama Royal Hotel prepares halal souvenirs.
In Okayama, there is a Korakuen. This is one of the three great gardens of Japan. ( http://www.okayama-korakuen.jp/english/index.html )
You can buy the halal KIBIDANGO at Okayama Station. KIBIDANGO is a basic souvenir in Okayama. ( http://www.koeido.co.jp/main.html )
Tel

086-255-1111

Address

2-4 Ezucho Kita-ku,Okayama-shi, Okayama-ken

Halal Gourmet Japan