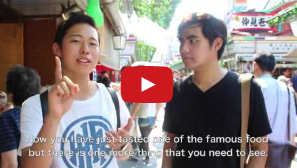 Written by Hiroto-san
We have just published the first travel report for Asakusa today.
If you are seeking for any tips about sight seeing spots or Halal restaurants in Japan, this video will helpful to you.
In this video, a Japanese university student takes a Malaysian exchange student around Asakusa to some famous sight seeing spots and Halal restaurants.
We are pretty sure this video will be helpful to all Muslims who live in, and visit Japan.
In this video, the students use, "Halal Gourmet Japan App", so if you are unsure of how to use this app or you have never heard of it before, you can pay close attention to this section of the video.
Finally, during this video, only Asakusa has been featured. However, we will soon be visiting Kyoto and Hokkaido to film another video. So don't forget to subscribe!
[Link]
・Halal Gourmet Japan (iOS)
http://appstore.com/halalgourmetjapan
・Halal Gourmet Japan (Android)
https://goo.gl/hYYXu7
・Asakusa Map
https://www.halalmedia.jpasakusa-map/