Written By Dwinda san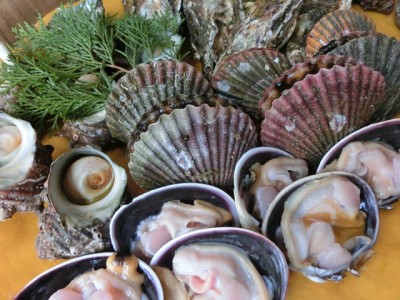 Kaito Yumin Club, an eco-tour operator in Toba City, Mie Prefecture, offers a Muslim friendly tour for Muslim tourists to meet Ise-Shima Ama divers. Ama means Japanese traditional woman divers that have been existing since 3.000 years ago. In Ise-Shima, Ama culture becomes one of the most popular attractions for tourist coming to this area.
On Muslim Friendly Ama Experience Tour arranged by Kaito Yumin Club, tourist will have a chance to meet the Ama-san and have a warm chat with these sea conservators in their Ama hut. Ama hut refers to a hut where the woman divers prepare for the food, warm their body, and sharing their stories after catching seashells and sea urchin in the sea. Nowadays, some Ama huts are used as seafood restaurants managed by Ama-san after their diving activity. On this half day tour, Muslim tourist can enjoy fresh seafood grilled by the Ama without alcohol contains and the prayer room will be prepared. The place for ablution and washlet-toilet are also provided at the hut for Muslim tourist's convenience. The tour included Osatsu Ama Culture Museum and Ishigami Shrine visit, and pick up service from Toba Station.
English and Bahasa speaking guide is available for foreign tourists.
Tour price per person:
7,000 JPY (include seafood snack)
8,500 JPY (include lunch)
Kaito Yumin Club Eco-tour
Addressdt>

〒517-0011 Mie Prefecture Toba City Toba 1-4-53

電話番号、FAX

Tel: (0599)28-0001 Fax: (0599)25-1300

HP

For reservation:

kurage@oz-group.jp