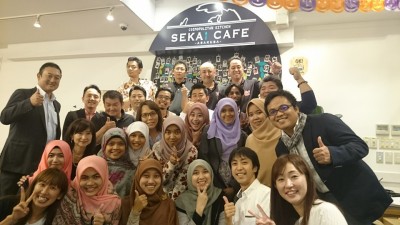 October 16th (Fri) 2015 at 18:00
We had approximately 20 Muslim international students taste Ishinomaki non-animal and non-alcohol foods at Sekai cafe Asakusa store, located 1 minute away from Kaminarimon of Asakusa.
With full cooperation of Sekai cafe Asakusa store, we brought from Ishinomaki delicious Japanese dishes of Ishinomaki located in the Sanriku coast which may be enjoyed by Muslim people along with pots and pans.
People from the Ishinomaki Genki fukkou (revival center) challenged in developing Japanese dishes with the taste of Sanriku coast using seafood, pork, beef, and chicken from Ishimaki which does not contain an alcohol. It was not aimed towards acquiring HALAL certificate, but food ingredients were traced three steps back regarding whether or not animal or alcohol-derived products were used in the manufacturing process of the ingredients and seasonings, and the results thereof were disclosed.
Whether or not to actually eat the food greatly depends on the individual decision of Muslims, but non-animal, non-alcohol food that may be eaten by Muslims without worry were developed by tracing back ingredients for three stages and disclosing such information.
Many men and children participated in the tasting at Masjid in Otsuka of February of this year, but the groups were completely different at this tasting, with participants mostly consisting of international students, and many women.
The atmosphere of the café was lively due to the participants being trend-conscious and active towards transmitting information through SNS.
Sekai cafe Asakusa store has pretty interior and is a bright and clean café.
It is an honor for Ishinomaki to be able to carry out non-animal tasting of Ishinomaki at such an amazing place.
Mr. Matsumoto, the representative of board of directors, President Shima, President Tsuji, Mr. Yamagata, Mr. Sato, and Mr. Suzuki joined the event from Ishinomaki Genki fukkou center (revival center). Also, two members from the Room for Northeast Community and two members from the Public relations and CSV Promotion Department, a total of four members participated from Rohto Pharmaceutical Co., Ltd and Public relations.
The event was realized by the collaboration of Japan SI Research that runs "SEKAI CAFÉ," the Room for Northeast Community of Rohto Pharmaceutical Co., Ltd, and Ishinomaki Genki fukkou center (revival center).
Rohto Pharmaceutical Co., Ltd. working at the "Room for Northeast Community" towards revival of the Northeast following the Great East Japan earthquake was also continuously involved in recovering industries of the affected area, where they met fish processing company in Ishinomaki troubled by the dramatic decrease of marketing outlet following the earthquake, and came up with an idea that "perhaps offering the delicious seafood of Ishinomaki as HALAL will make an opening for new business to have more people eat their food.," and so started developing products that can be enjoyed by Muslim people without worry. A new strategy was started by the collaboration of the three companies that seems unrelated at first glance.
<Served menu>
・Salad (with Japanese style non-oil dressing)
・Soup with ground sardine meat
・Grilled mackerel
・Grilled sardine
・Cod roe
・Mix of seven seaweeds
・Oyster keema (spiced minced meat) curry
・Mackerel soup ramen
The responses from Muslim people were positive.
The soup with ground sardine meat, mackerel soup ramen, oyster curry, and dressing were the popular dishes, and many had second servings. The soup with ground sardine meat was particularly popular, with participants commenting "the soup was delicious."
The participants had second servings of mackerel soup ramen, and the tasting had a very lively and happy atmosphere.
Since the cod roe was offered uncooked, many people mentioned on the distinct smell, and made advices on improving the ramen by changing the toppings and noodles. We were able to hear many valuable feedbacks for future reference, which was a great achievement.
Further improvements are starting for better tasting products thanks to all the International students that participated in the tasting with great smile and spoke Japanese well.