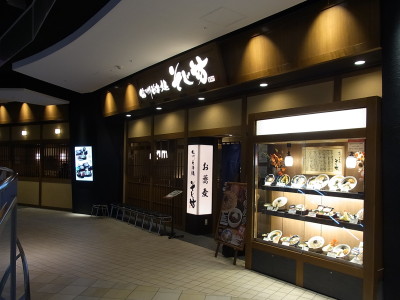 Gourmet Kineya is a company operating approximately 450 restaurants within Japan.
http://www.gourmet-kineya.co.jp/company-e/index.php
We offer multilingual menus including English, Chinese, and Korean for increasing customers visiting Japan
along with educating English to employees.
Further, at our company, we are actively involved in commitment towards HALAL.
We acquired HALAL certification at the "Oraga Soba Kanasai International Airport store" since August 2013, and are currently offering HALAL-friendly service at the following 6 stores.
・Homemade Udon Noodles Kineya Mugimaru Terminal 1 at Narita International Airport
・Agetate no Aji Tentei Terminal 2 at Narita International Airport
・Shinshu Sobadokoro Sojibo Diver-city Tokyo Plaza store
・Oraga Soba Kansai Airport Aeroplaza
・Shinshu Sobadokoro Sojibo Kanasai International Airport store
・Yu-getsuan sojibou lalaport EXPOCITY
We have been serving HALAL-friendly food in a subsidiary company offering in-flight meal business, and started taking action towards acquiring HALAL certificate upon the mission of "making everyone from around the world happy with Japanese soul food."
The detailed steps we took for acquiring the certificate is as follows.
1.Consultation with HALAL certification agency
2.Checking ingredients and renovating to a HALAL kitchen
⇒dishes unable to replace ingredients were eliminated from the normal menu
3.On-site inspection by HALAL certification agency, training staffs, and ritual cleaning
4.The certification is updated every year along with carrying out employee training every year.
●Message to Muslim customers
In Japan, the whole nation is devoted to increasing the number of foreign visitors from overseas countries.
At Gourmet Kineya group, in order to play a role in this practice, we are taking different measures such that visitors from overseas countries can enjoy Japanese food in convenience. At our company, we will be increasing HALAL-certified stores in the future to support Muslim people's stay in Japan, so please stop by when you are visiting the country.