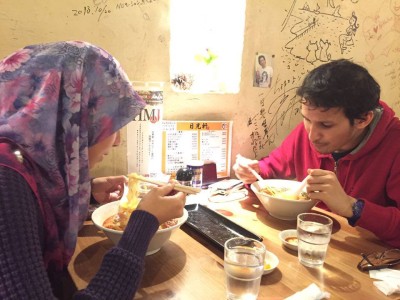 Hello,I'm Maaya Fujisaki at intern of HMJ.
I went to NIKKOKEN, one of the major reasons attracting Muslims in Kanto region to Sano city of Tochigi Prefecture.
It is so popular, that customers wait in until the restaurant opens for dinner time.
The total population of Sano city is 1.3 million, but there are 200 ramen restaurants in San o city, which proves how much the locals love ramen.
Customers enter the store one after another when restaurant finally opens for dinner time, among which many are regular customers. Dainari Goka, the owner of NIKKOKEN, was communicating with each customer, and was making interaction between people rather than having a relationship of a customer and owner.
The sano ramen made with Mr. Goka with a fascinating personality is made with thick wavy noodles, with chewy texture, and was no doubt the best ramen I ever had! The soup was very light tasting, that I drank it all!
A Muslim customer came along the way.
They ordered spicy ramen and gyoza on the HALAL menu
When I took a look at the HALAL menu, it was in Japanese, and not English. This is because Mr. Goka knows that people who don't understand Japanese will ask him if they need help.
Fans of NIKKOKEN increases by communicating with customers in this manner.
Another reason for their popularity is their cooperation with Sano mosque and Toda mosque.
I interviewed two Muslim people; they were international students attending university in Tokyo and Kanagawa and came to visit NIKKOKEN by referral from a friend in Utsunomiya University after visiting Sano outlet mall and Ashikaga Flower Park.
They seemed to enjoy the gyoza, which they had for the first time.
When I was talking with a group of Muslim people until the ramen came, a man said that he found a job in Japan, but the woman customer was struggling to find a place to work. Perhaps many Japanese people don't know hijab, which is still not familiar in Japan.
Japan needs a general change. HMJ will create a chance for change and make it into shape.
JAPAN HALAL EXPO will be held in Makuhari Messe on November 25th and 26th as one of the steps for achieving this. Of course, you can enjoy the gyoza from NIKKOKEN here!
JAPAN HALAL EXPO 2015
https://www.facebook.com/events/842396212509725/
Tel

0283-22-7832

OPEN

11:30~15:00(L.O.14:30)
17:30~20:00(L.O.20:00)

Address

138wakamachicho sanoshi, Tochigi 327-0846

Halal Gourmet Japan