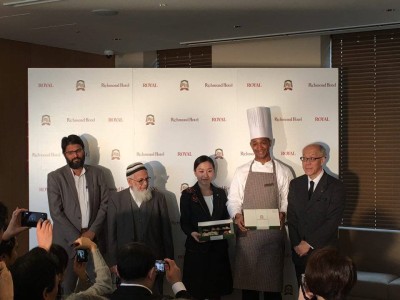 On December 17th, Richmond hotel Premier Asakusa International newly opened in Asakusa with a concept "Innovation ~Bringing in a new wave to Asakusa~." "Premier Lounge," a restaurant in the hotel, acquired HALAL certificate such that they can serve HALAL meals for the convenience of Muslim customers.
※Here is Menu( Buffet included 2,500JPY)
※You need a reservation at 21:00 the day before.
They will start selling two types each (4 types in total) of Washoku (Japanese dishes) and western dishes in a HALAL meal boxes. The HALAL meal boxes offered at the hotel are made by a production line for HALAL food at Fukuoka Central Kitchen certified at Japan Islamic Trust on August 8th, developed and set by ROYAL CO.,LTD., the company responsible for food services of Royal Holdings. HALAL meal boxes are sold to test the market in existing hotels such as NambaDaikokucho (Osaka) and Premier Musashi kosugi (Kanagawa Prefecture) in addition to Premier Asakusa, and Richmond hotel plans on sequentially selling them in locations across the country in response to the needs of customers.
Also, they are enhancing acceptance of tourists visiting Japan by hiring a multilingual concierge available to support in 5 languages and establishing a water place for Muslim (Islam) tourists to wash their hands and feet inside the hotel, etc. Moreover, opening of a commercial facility "Marugoto Nippon" is planned on the 1st to 4th floor for customers staying at the hotel.
Tel

03-5806-3155

Address

Richmond Hotel Premier Asakusa International,2-6-7 Asakusa,Taito-ku, Tokyo

WEB