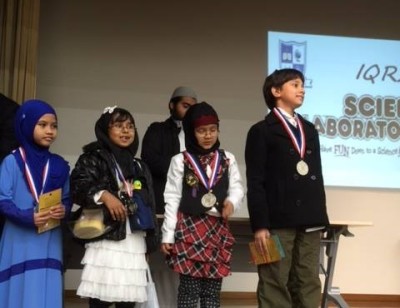 Written By: Ms. Sumaiya Mahabub (Science Teacher)
Tokyo Iqra international School is the first and only full time islamic international school in Japan.
The Tokyo Iqra International School organized its First Science Fair and Exhibition on Saturday, 12th December 2015. The event took place at the local community hall where 25 youngsters, aged 6 – 12 (from grades 1 – 3), displayed various projects and experiments. Some of these projects included – Balloon Hovercraft, Glowing Egg, Walking Water, Volcano, Pollution, Lava Lamp, and much more.
The children made their own exhibits and conducted various experiments using everyday items from home. They also linked their projects to Islam and explained how Allah's miracles are present in our daily lives. They were judged on the categories of project demonstration, explanatory poster, and speech.
Children are our future leaders. At Iqra, we aim to provide these rising stars with the knowledge and skills required to succeed in this competitive world. We pray and hope that in the future, that they become good Muslims and that they shine a positive light on our community.
We praise Allah for blessing us with such a successful event. We thank all the parents, teachers, and staffs for their support and dedication. Most importantly, we congratulate the children on their accomplishments.
Website: http://iqra.jp/
https://www.facebook.com/tokyo.iqra/
Established: April, 2014
Current Students: 55
Teachers: 7
Staffs: 3
Campus 1 (Kindergarten) Address
〒124-002, Tokyo-to, Katsushika-ku, Hosoda (東京都葛飾区細田) 4-38-8
Campus 2 (Primary) Address
〒124-002, Tokyo-to, Katsushika-ku, Hosoda (東京都葛飾区細田) 3-12-13
Phone: 03- 6458-9852, Mobile: 080-3120-5180