Halal menu is not available in this restaurant now.
Written by Lala-san
Sushi is popular worldwide as one of the most delicious Japanese food, that is why almost everyone who visits Japan wants to try sushi. Unfortunately, they often add mirin (which is made from alcohol) to the rice in sushi to make it tastes sweeter. As muslim, we have to be careful since we can't consume any forms of alcohol. Similar with other Japanese cooking, alcohol-based seasonings are often used even for seafood dishes. Thankfully, halal Japanese restaurants serve non-alcohol and non-pork cookings are increasing nowadays. One of the halal restaurants serves sushi is Ganko Zushi, located in Kyoto.
Located 2 minutes walk from Sanjo Station, Ganko Zushi serves mainly Japanese food (washoku). They also have obtained halal certificate. They started to serve halal menu in their restaurant to spread out Japanese food culture, and they hope more people (including muslim) can enjoy the Japanese food culture.
Other than halal menu (they use halal meat and halal seasoning), Ganko Zushi also provides regular menu which are not halal. However, they are very careful in separating those two menus. For example, they have exclusive kitchen and cooking tools for preparing the halal menu. They even separate the food ingredients during ingredient delivery and storage (refrigeration and freezing). All dishes and cutlery for the customer are disposable so we don't need to worry about them mixing with the one used for non halal menu. They serve alcohol and other non halal dishes for non-Muslim guests, however they can provide separate room with prior reservation.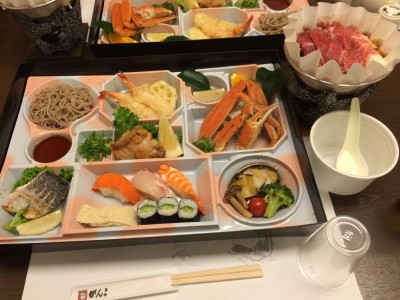 Ganko Zushi serves 3 kinds of Halal menu sets: Uji, Arashiyama, and Gion. Gion menu is extravagant, consists of halal grilled chicken, grilled Japanese Spanish mackerel, shrimp and vegetable tempura, boiled snow crab, cold noodle (soba), steamed abalone, various sushi, halal beef-suki-shabu, and fruits. It is a bit pricey but it is worth the price since they use the best ingredients. Even for Japanese people, they think it tastes super delicious! This is one proof that delicious Japanese food still can be made even without alcohol and pork. They developed their own recipe to create Japanese taste without mirin or alcohol. The key for its delicacy is fresh ingredients used for the cooking.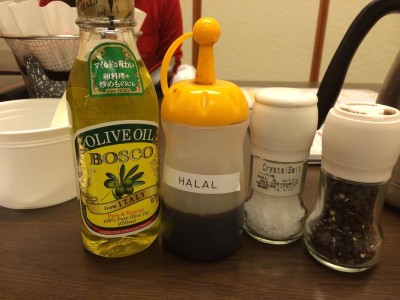 If you don't want to order the sushi set menu, you can order sushi separately; just don't forget to ask them to make them with halal-way (no alcohol/mirin).
Ganko zushi opens everyday from 11:00 until 22:30. If you want to order menu set (halal), you have to make reservation 3 days before. No need to worry about where to pray during your meal in Ganko Zushi, they prepare prayer mat and qibla compass by request.
So if you happen to visit Kyoto and want to enjoy authentic and super tasty halal Japanese foods, don't forget to stop by at Ganko Zushi!
KYOYO MAP FOR MUSLIM
https://www.halalmedia.jp/archives/8268/kyoto-map-for-muslim-is-now-available/
Opening hours

11:00~23:00

Close

daily open

Address

Sanzyoudoori kawaramachi higasiiru nakazimatyou 101, Nakagyo-ku Kyoto-shi, Kyoto 604-8004

Phone

075-255-1128

Website