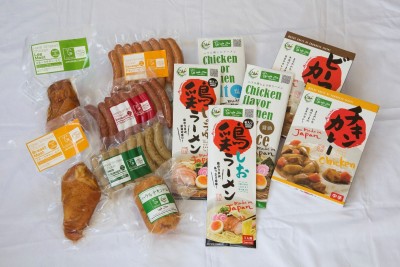 ① Encounter with HALAL
Many Muslims live in Japan or come to visit Japan.
We believe that many people to visit Japan excited to try out Japanese food.
However, we heard that there are very few HALAL-friendly Japanese dishes, greatly decreasing the pleasure of dining. Therefore, our company acquired a HALAL certificate and after three years of many trials and errors since starting product development, was finally able to develop and sell satisfactory products.
http://ajinatori.com/
② Commitment to products
Since its foundation in 1968, Nansatsu Shokucho K.K. has been manufacturing the soul food of Kagoshima, "chicken sashimi" in Kagoshima Prefecture, which is the greatest chicken and egg-farming district in Japan.
Our mission statement is to "create happiness."
To stay a company that provides delight to everyone involved with our company through food.
Our concept is to "make high-quality HALAL food made in Japan."
The essential point in development is how to incorporate Japanese taste into HALAL products.
While only few seasonings can be used in HALAL food, let alone the ingredients, we use only the finely selected ingredients delivered from various places. Also, we had Muslim workers in our company and Muslims living in Kagoshima Prefecture taste the foods during the experiment, and exchanged numerous opinions on the taste and packaging design prior to making each product.
We made ramen, curry, and sausages by incorporating lots of Japanese taste at the best quality for our customers to be "pleased" and "delighted" with Japanese dishes.
Our passion and enthusiasm is the best spice!!
③ Future Prospects
The first priority is to deliver our products and information to Muslims troubled in Japan.
Also, we wish to become the number one national HALAL food manufacturing company in Japan by reflecting the voices of many customers to our products, thereby offering a wider variety of products.
Particularly, we will create an environment in which "Aji-natori HALAL" is available anywhere such that it can be a complete part of the life of Muslims, including, for example, promotion to super markets, using our products in in-flight meals (Emirates Airlines and Qatar Airways), increasing availability of online shopping, etc.
④ Message to Muslims
We will be striving our best so that many Muslims can enjoy Japanese food!
We will be planning events inviting Muslim people to participate in cultural exchanges and product development. Let's all grow and foster "Japanese HALAL" together to make Japan a happier country in which Muslims in Japan and inbound Muslims will not have issues with "food."
You can mass buying on the Internet.
・Soy sauce Ramen
http://goo.gl/EG5UYm
・Solt Ramen
http://goo.gl/nMRRm4
・Beef Curry
http://goo.gl/VdNhaU
・Chicken Curry
http://goo.gl/2StMDT