JAPAN HALAL EXPO 2015
25/11/2015 @ 10:00

-

26/11/2015 @ 17:00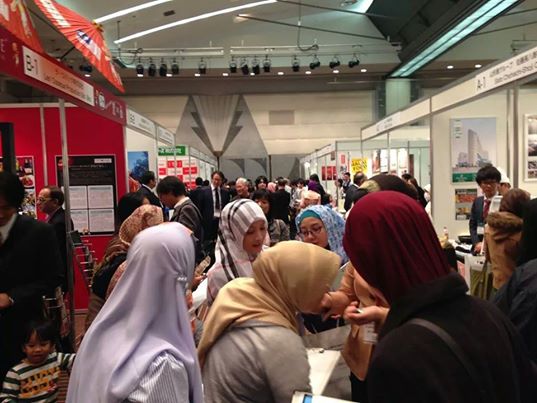 【About JAPAN HALAL EXPO 2015】
https://www.halalmedia.jp/archives/1662/japan-halal-expo-2015-held/
https://www.facebook.com/events/842396212509725/
※Last year Exhibitors
https://www.halalmedia.jpexpo/jp/index
Assalamu Alaykum.Hello everyone.
We will be held again this year!

The purpose of the Expo is to convey a message to the world that "We are working on Halal correspondence in Japan ".
And attract many tourists from the Islamic world, want to send to the Islamic world Japanese goods.
Now, relaxation of visa, immigration policy, duty-free shop expansion, LCC expansion, Tokyo Olympics, big wave is coming.
Compared with last year, halal situation in Japan has changed considerably!Many companies are working on Halal, open many restaurants, prayers space was provided in the various locations.
For Japan, it will be an important step overseas tourists to "OMOTENASHI", please join us.
It is also welcome of Muslims.
You can eat a lot of halal food of Japan.
JAPAN HALAL EXPO 2015  ~Made in Japan Halal & Visit Japan~
■Date
2015年11月25日(水)~26日(木)
■Website
http://japan-halal.jp/expo2015/
http://japan-halal.jp/expo2015e/
■Schedule
11月25日(Wed)10:00~17:00
11月26日(Thu)10:00~17:00
■Place
Makuhari messe
http://www.m-messe.co.jp/en/index.html
■Entrance fee
Free
■Sponsored by
ジャパンハラールエキスポ2015実行委員会
■Co-sponsored
・ハラールメディアジャパン株式会社
・株式会社幕張メッセ
■Sponsorship
千葉県、徳島県、千葉市、日本貿易振興機構(ジェトロ)、中小企業基盤整備機構、 国際機関日本アセアンセンター、成田空港活用協議会、ちば国際コンベンションビューロー
■Special Sponsors
日本経済新聞社