Information About Our Service
Thank you very much for viewing Halal Media Japan at this time.
We established our portal site in January 2014 as a media to spread information that could be helpful or useful for all Muslims.
Muslims visiting Japan are increasing day by day as foreign visitors to Japan have exceeded 20 million people a year,
and the information needs on meals and worship are increasing more and more.
"I want to promote the area more and encourage people to come."
"I would like to spread information about products for Muslims to the rest of the world."
If you have ever thought about this, please do not hesitate to contact us.
For meals, we believe that it is important to disclose information in an easy-to-understand fashion, so that Muslims can make judgment on their own.
Unlike outbound (export) which requires countries to obtain Halal certification,
there are many steps inbound that can be done without certification.
"Halal certification is too difficult to receive."
"I do not know how far to respond."
If you have any questions like this, please do not hesitate to contact us at once.
We cannot always say, "This is the correct answer," but we can introduce concrete examples in various situations.
We support restaurants, accommodation facilities, commercial facilities and local governments' Muslim correspondence.
We also hold basic seminars and hands-on study sessions more than 50 times a year.
In Japan we would like to promote Japan as a country for tourism and a symbol of multiculturalism to the world together, with your help.
CEO Akihiro Shugo
We have been spreading information about Japanese products, services and tourist spots to 1.6 billion Muslims worldwide.
At Halal Media Japan, we are sending information about restaurants, mosques, places of worship and sightseeing spots for Halal in English, Indonesian, Malay, Arabic, and Japanese. You can also read articles on social media and applications. It is Japan's one and only media that can spread information for Muslims to 1.6 billion people worldwide.
Why don't you activate your area with Muslim inbound?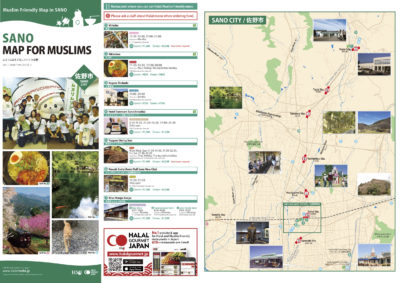 We are creating a "Muslim hospitality map" for Muslim travelers visiting Japan.
So far, we have published 7 city maps in Sapporo, Sano, Chiba, Asakusa / Ueno, Shinjuku, Kyoto, and Osaka in cooperation with local governments.
We also receive seminars for companies and local governments so please do not hesitate to contact us.
→About MAP for Muslim
→About Seminor
An exhibition business meeting of halal products, seminars and fashion shows that you can see step by step.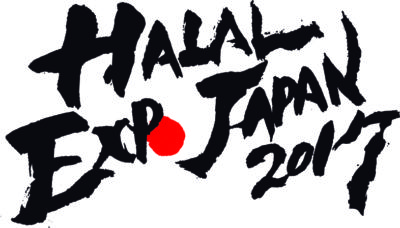 Halal Expo Japan is an exhibition business meeting on products and services corresponding to Halal. It is an international event that local governments and private companies involved in cosmetics, trade, travel and tourism, information communication, etc. are brought together in addition to the food industry.
We hold seminars that understand the voices of the workplace responsible for Halal and Muslim fashion shows at the same time.
Japan's largest Halal / Vegetarian restaurant search site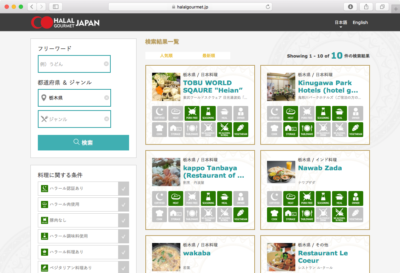 Halal Gourmet Japan allows you to quickly and easily find restaurants where Muslims and vegetarians can enjoy meals with ease.
Everything is displayed in pictogram so that Muslims can judge whether it is halal or not,
so that we can respond flexibly to differences in the way of thinking about Halal and the corresponding situation at the store.
convenient application that can also search for mosques and places of prayers. It can be used on both iOS and Android.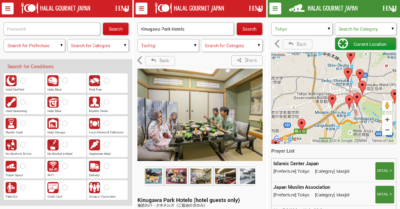 In Halal gourmet Japan's free app, you can search not only restaurants, but also mosques and worship facilities throughout Japan.
You can also use coupons exclusively available through the app. In addition, developers who are developing web services and applications can provide search APIs.
Posting of stores is free. You are free to post any store that might be helpful or useful for the Muslim community.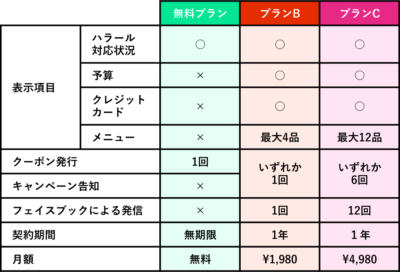 You can promote your shop at HALAL Gourmet Japan, which is used by Muslims/ Vegetarians around the world.
If you choose a toll plan, you can better convey the attractiveness of the shop to the customer by the "campaign announcement"
and "display" functions by displaying the budget, menu, etc.
A free e-mail magazine that understands the voice of the scene of Halal.
We have an e-mail magazine to inform you about information related to Halal and Muslim Inbound.
We deliver a summary of the data obtained from the primary information on the website, gathered
by walking around the Halal market in Japan and the trends on our website.