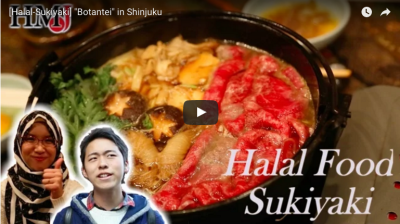 "Muslim friendly menu"
Botantei is one of the Halal Japanese restaurant in Shinjuku and it's known as restaurant serving muslim friendly menu.
In terms of this menu, of course they serve no pork and no alcohol,and they also use halal ingredients,so you can eat without any worries.
In addition to that they consider "Praying" which muslim often get in trouble in Japan.
In this restaurant there is always muslim chef,so you can use prayer's mat and qibla compass by just calling them.
※※※※※※※※※※※ Attention※※※※※※※※※※※※※
・You need to make a reservation of muslim friendly menu by 3 days before you visit.
・If the restaurant is busy, there is possibility that you are not able to use prayer space.
※※※※※※※※※※※※※※※※※※※※※※※※※※※※※
"Sukiyaki is the best food in Botantei!"
The recommendation menu of Botantei is "Sukiyaki".
Normally sukiyaki has alcohol,but of course their sukiyaki doesn't have alcohol (※ It's only muslim menu).
Besides that the hostess helps you with preparing sukiyaki in front of you,so even if it's first time for you,you can order it without any worries.

The reporter "Aya-san" had never eaten it before,and she got so satisfied with sukiyaki.Please check it out in our video!
"You are going to be impressed with the aesthetic atmosphere of this restaurant"
Selling point of Botantei is not only food but also the elegant and beautiful interior. I believe it will take your breath away.
Each rooms have ink painting,original drawing,and art craft of famous artists,so if you want to feel Japan in the good old days, this restaurant is must visit place.
Botantei is five minutes' walk away from Nishishinjuku station and you can also get there with just basic fare of a tax meter,so the location is very nice.When you come to shinjuku,please visit this restaurant.Having tasty sukiyaki at beautiful space is so special.
*The restaurant is not HALAL-certified
*They also serve alcohol
Tel

050-5799-1753

OPEN

11:30~15:00 (L.O.15:00)17:00~22:30 (L.O.22:00)

Address

4-15-1, Nishishinjuku, Shinjuku-ku, Tokyo 160-0023

Halal Menu

Halal Gourmet Japan