All you can eat within 70 minutes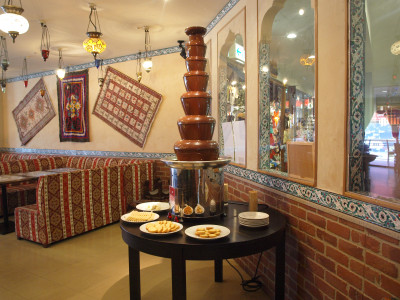 Written by Ros san
Osakako Station is very famous among the tourists because it is located at an enormous Osaka Aquarium. Osaka Aquarium attracts many tourists as it offers many attractions such as giant Tempozan Ferris Wheel and location for shopping spree at Tempozan Marketplace. If you have your kids with you, bring them to Legoland which is based at Tempozan Marketplace too.
Another interesting exploration tourists can make is to take Santamaria Ship and Captain Line Cruise nearby the port to get to Universal Studios Japan by sea. Tempozan offers many other fascinating places.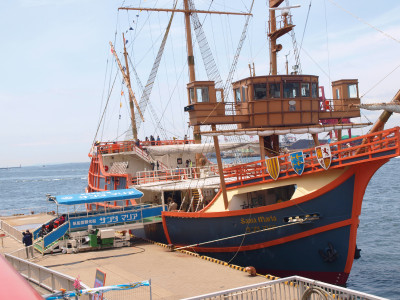 For example, after a visit to the Aquarium, I would suggest you to have a lunch or dinner at Halal Restaurant Bab-ul Hayat as you do not need to worry about the halal status of every single meal in this restaurant because all of the food are made of halal ingredients and the chef is a Muslim. Within 70 minutes, you can eat whatever you want to eat and for me the price is affordable because this is the only halal buffet I've ever known in Osaka Bay area. Most importantly, the food is scrumptious with variety of foods. I am sure that you will not regret it.
Name of The Halal Restaurant: Bab Ul Hayat (Turkish Buffet)
Price for Adult is 1380 yen & children from 6 years to 12 years is 890 yen.
Free of charge for 5 year olds and below.
Menu of Food:
Chicken Kebab, Turkish Pizza, Nan, Rice, 2 Types of Soup, Turkish Fried Rice, Chicken Stew, Oven-Baked Beef and Eggplant, pasta, 12 kinds of salad.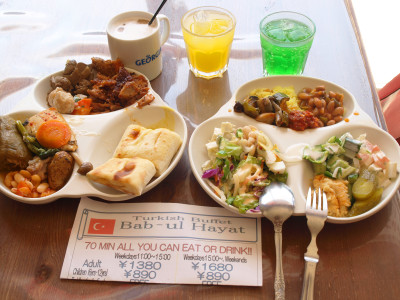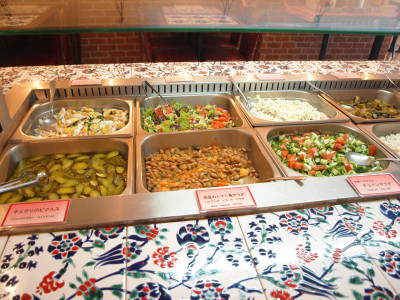 The Drink Bar corner serves selection of beverages such as Mango Juice, Lemonade, Chai, Aryan (yogurt drink), Cokes, Melon Soda, Concentrated Fruit and Vegetable Juice and hot drinks such as Coffee, Café Latte, Cappuccino, Mocha and Hot Chocolate.
While having our meals, we can enjoy the breathtaking view of the aquarium. Not only that, the eatery also exhibits the modern Turkish interiors which we could rarely see in Japan. Another plus point is, it is spacious and very suitable for family dining.
Desserts are one of the moments that I always look forward. Their chocolate fountain is highly recommended. The thick texture of the chocolate taste really melts into your mouth. Enjoy the succulent chocolate by dipping it with biscuits, waffle or banana, and I guarantee your children will absolutely love it.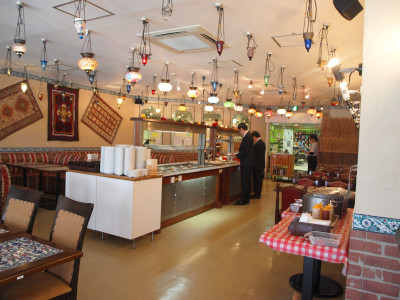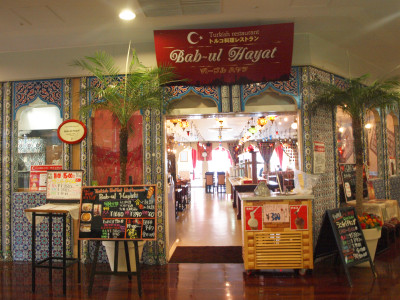 Another point that I would like to compliment is their friendly and warm staff. They entertained my needs and inquiries especially when I asked them about the food and the chef. Last but not least, when you pay for the buffet price at Bab Ul Hayat, you are entitled to get the Turkish ice cream at half price (150 yen only!) and the normal price is 300 yen.
Based on my experience, every time I stroll around Osakako, I can't help myself to fall in love with its atmosphere since it offers a breathtaking view of sea, seeing the waves rippling gently and looking at the ships sailing to the sea. Above all, when my tummy rumbles, I can easily get halal food around which is indeed very convenient for me as a Muslim.
Bab-ul Hayat
*This restaurant has not been certified as Halal.
*Alcoholic drinks are sold.
Related article
[bc url="https://www.halalmedia.jp/archives/12106/osaka-map-muslims-finally-released-enjoy-osaka-castle-dotonbori/"]