Muslim-friendly town Osaka
Motivation behind starting the Muslim-friendly service
In late December of 2015, we received a passionate request from a Muslim person introduced to us by a friend that they want to eat delicious Japanese ramen in Osaka. We are a ramen store seeking for global opportunities, so there was no way we were going to miss out on this chance to respond. We started the project immediately and were finally able to open the store.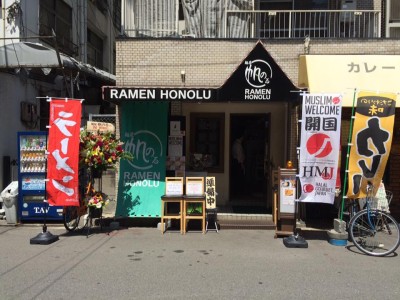 Correspondence and devices made for the Muslim-friendly service
First, we learned the basic specifications for HALAL-friendly food from Made in Japan Halal Support Committee, and received advices on food. We also hired a Muslim employee to gain trust from customers, and prepared a prayer space.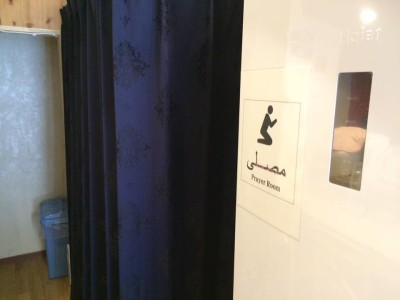 The store, commitment to taste, and the sales point
Upon making the Muslim-free ramen, we were particular about the soup, and especially particular on Spicy Ramen made using a special spicy sauce. Spicy paitan(Spicy Ramen) is a soup with rich paitan soup (Rich Chicken Flavor) made by cooking domestic HALAL chicken for 8 hours as the base, and you can taste mild spiciness and rich umami taste of chicken. We also offer extra spicy paitan(Extreme Spicy Honolu), which is the most spicy ramen on our menu with the best balance of spiciness and umami. We aim for ramen with great balance of umami and spices, and not ramen that is just spicy. Please try the Spicy Ramen proposed by us.
Popular side menus include HALAL gyoza from NIKKOKEN, which is already famous among Muslims, and HALAL chicken roasted chicken on rice. Please try it together with the ramen.
Message to Muslims
We run several popular ramen stores with lines of people waiting in Tokyo, and are planning on advancing to Asia and other countries in the world in the near future. We hereby decided to open a HALAL ramen store in Osaka for the reasons mentioned above. Please try the Muslim-friendly ramen made by accumulating all our knowledge. We are sure it you will find it delicious! We have a Muslim staff, and can correspond to many languages including English, Indonesian, French, Italian, etc. Visit us without any worries. All our staffs will be waiting to serve you!
Halal Ramen Honolu
*This is not Halal certificated restaurant (All ingredients are halal)
Tel

06-6710-9604

OPEN

Mon-Sat [Lunch] 11:30-14:30 [Dinner] 17:00-21:00,
Sun [Dinner] 17:00-21:00

CLOSE

Golden Week, Bon holidays, new year's holiday(Please phone confirmation)

Address

1F, 2-5-27 Motomachi, Naniwa-ku, Osaka-shi, Osaka 556-0016

Website

Halal Gourmet Japan
Related article
[card url="https://www.halalmedia.jp/archives/12106/osaka-map-muslims-finally-released-enjoy-osaka-castle-dotonbori/"]
[card url="https://www.halalmedia.jp/archives/12892/halal-buffet-at-tempozan-market-place-near-osakako-station/"]