About 5 minutes on foot from Waseda Station
Written by Nurul Burhan san
Maybe the name of INEYA is not very popular among Muslim Waseda students from Indonesia, but if you mention "Bento Pak Jogya" then most of the students had tasted the Bento. The name of Bento Pak Jogya is known because the owner, Mayoshi-san has lived in Yogyakarta for about 7 years. Mayoshi-san speaks Indonesian fluently and aware of the need of Halal food for Muslim. He and Michiko-san run the shop together.
There are 5 or 6 Halal Bento menus available, such as Chicken Katsu, Ajisai and Karaage, and prices vary from 500 to 600 Yen. Types of food from Bento also vary. For example, I chose Ebi Katsu, the menu consists of fruits, vegetables, egg, potato, chicken and of course, shrimp. You can enjoy delicious, nutricious and filling menus.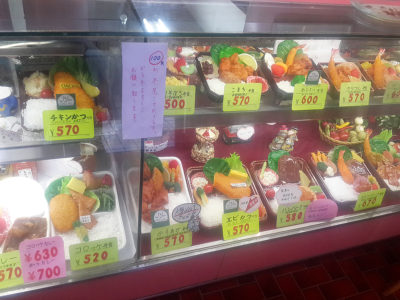 Located on the west of Waseda main campus, it's easy to reach this Bento shop, it only takes about 9 minutes on foot from Waseda subway station (Tozai Line) and 6 minutes from Waseda station (Toden-Arakawa Line). Shop usually open at 11.30–19.00 from Monday to Frinday. Shop also open on Saturday upon request.
You can order take away Bento or eat Bento at the shop. Small chairs and table for 4 people are available. Do not hesitate to speak Indonesian, because you might get free sweet hot tea and fruits like me and friends a couple weeks ago.
INEYA