First Halal Ozaki Beef in Japan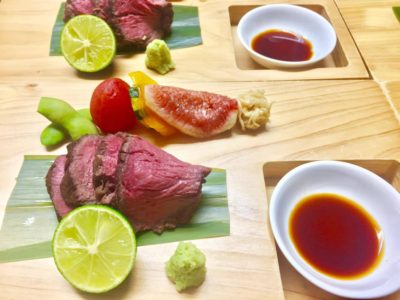 The semi-mythical wagyu beef, which is well-known only to those in the know, slaughtered by a HALAL friendly method, is now available to taste at Kusumoto, Nishiazabu.
*Reservation required
Tel

03-6447-2427

E-mail
Ozaki beef is the only wagyu beef in Japan named after the farmer and not the name of the place the animal is raised. The farm is located in a great environment with good quality water and fresh air. Please enjoy the best meat in Japan of cows raised using original mixed feed free of antibacterial agents, preservatives, meat and bone mill, etc.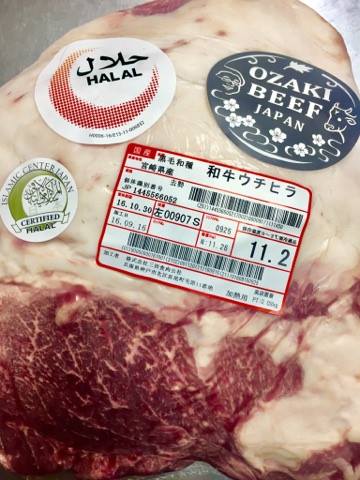 11,500 yen course (total of 6 dishes)
Appetizer, bowl dish, sashimi, HALAL Ozaki beef, fish simmered in broth, rice, and miso soup
Ozaki beef is served with special smoked soy sauce (made using HALAL-certified soy sauce), wasabi, citrus, and spices (sauce containing harissa and raw chili peppers).
Message from the producer, Mr. Ozaki
Hello, my name is Muneharu Ozaki.
It has been 28 years since I finished my studies on farming industry in the United States.
I studied the latest beef production technology at a farm in the United States with 1700 cows. The beef production factory was mass-producing beef by making the cows gain weight fast.
On the airplane back to Japan, I decided that if I was going to be involved in beef making, I should make beef that I want to eat and that can be enjoyed by my friends and family without any worries. I immediately succeeded my father's farm and started raising approximately 100 cows. I tried feeding them many different formulations of feed by tasting them myself. I make beef that I would want to eat myself, that I want my family, employees, friends, and consumers to eat. It is impossible to impress someone when you are not satisfied with the product. We strived to make beef that you will not get sick of it even if you eat it every day and will want to eat again the next day. Ozaki beef fat is not oily and has a light taste. No foam will skin off even if you simmer it in hot water.
Please enjoy my specialty Ozaki beef created for 35 years from my father's generation. It would be my pleasure if you can eat it at a special time in your life when you experience something happy or fun.
Kusumoto
Tel

03-6447-2427

E-mail

OPEN

18:00-23:00(You have to make reservation 3 days before)

CLOSE

Sunday, Public holiday

Address

3-23-5 Nishi-Azabu, Minatoku, Tokyo 106-0031

Website

Halal Gourmet Japan
Related Article
[card url="https://www.halalmedia.jp/archives/15559/first-rate-halal-washoku-restaurant-kusumoto-nishiazabu-even-halal-kobe-beef-courses/"]