Exhibitor Profile of Halal Expo Japan 2016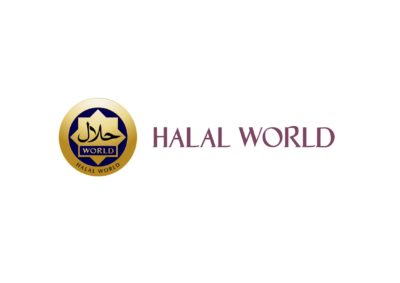 What is the feature of your company and the products?
◆ Feature of Our Company
For the past 30 years, we have been handling a diverse range of businesses, focusing on spreading the charm of Turkey.
  As the pioneer to bring Turkey to the world, we not only have many "Japan's first", but we also have admirable results for restaurant operations, and big events such as Aichi Expo and Shanghai Expo. We want to allow Japanese people, and also Muslim people to enjoy Turkey food without any worries. From 2013 we obtained halal certification and we started to develop services and manufacturing with it.
◆ Feature of Our Products
 ・Turkish Ice cream (Halal)
  Our company first brought in Turkish "stretchable" ice cream into Japan in 2004.
  We distribute the only "stretchable" ice cream in cup form even since the introduction at Aichi Expo. We are committed to making tasty ice cream by even bringing the Turkish ice cream artisan over.
 ・Turkish Bread (Halal)
Made by bakers in Turkey, the handmade Turkish bread has butter, olive oil and herbs in it, so even though there are no fillings it is still delicious and aromatic.
 ・Turkish Bento Rice box and side dishes
   Big railway companies have started selling bento rice boxes made from Turkish food, which is said to be one of the three great cuisines of the world. In addition, we also manufacture side dishes (frozen) so that Japanese people and Muslims from all regions can try delicious Turkish food. Please enjoy Turkish food made by top chefs.
 ・Non-alcoholic sparkling wine
   This is different from what is currently sold in stores whereby flavouring and soda are added into grape juice. It is made from removing alcohol from sparkling wine, which is a technique that is not commonly available. This product has halal certification from Malaysia's JAKIM so Muslims can drink it without worries.
   
 ・100% Turkish Olive Oil (KOMILI)
   This is the best-selling brand KOMILI out of the 3 brands manufactured by Turkey No.1 olive oil manufacturer.
Currently the Italian and Spanish olive oil that are distributed in Japan are mostly made from blends of olives from other countries, which are banned under Turkish law. As only high quality Turkish olives are used, the original taste remains, so it complements pasta and salads. As it is pure olive oil, no animal-derived emulsifying agent is used and is therefore a halal product.
 ・Turkish black tea
   Turkey is the country that consumes the most black tea in the world. The reason is said to be because the tea produced contains only half of the normal amount of caffeine so it is very easy to drink. Turkish black tea uses tea leaves from Rize Province, Black Sea Coast in north-east Turkey. As the only tea producing country that is not within the equatorial zone, it is said that the tea leaves "are protected by snow and grown by the sun". It is all natural without fertilizers and caffeine, and is drank commonly in Europe, Middle East, Africa.
   We handle CAYKUR tea products, which has 80% share in Turkey's black tea.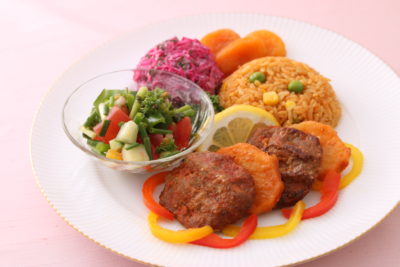 Why did your company acquire Halal certification?
 Turkish food is originally halal, but we have obtained halal certification to allow Muslims outside Turkey to enjoy a wider choice of food in Japan.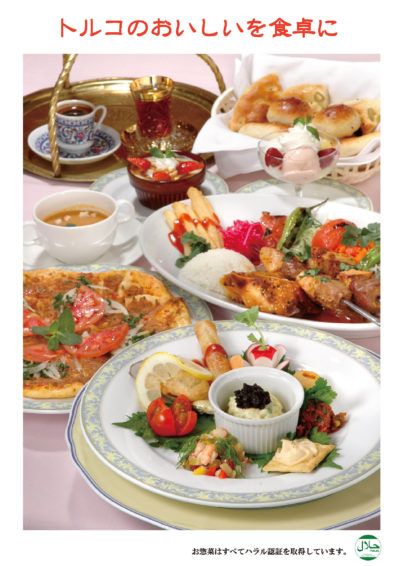 What is the recommended way of eating/cooking/using it?
・Turkish side dishes
   It can be easily thawed so you can use it for dinner or parties. Please enjoy turkish food even at home.
・Turkish Bread
   You can eat it for breakfast with olive oil and soup, experiencing Turkish style of breakfast.
・Turkish Ice cream
   Of course it is "stretchable", but you can also enjoy the springy texture.
    You can enjoy it a little more luxuriously by placing it on a plate decorated with fruits, and eating it like a dessert with fork and knife.
・Non-alcoholic sparkling wine
    Muslims who cannot consume alcohol, drivers, pregnant women and children can enjoy this beverage without any worries. It is also popular for parties.
・Turkish black tea
  It is a black tea that you will never get sick of even if you drink it 10 times a day, whether it is daytime or after meal.
・Olive oil
   You can use it for salads and pasta, and also with bread.
   It has a mild and refreshing taste.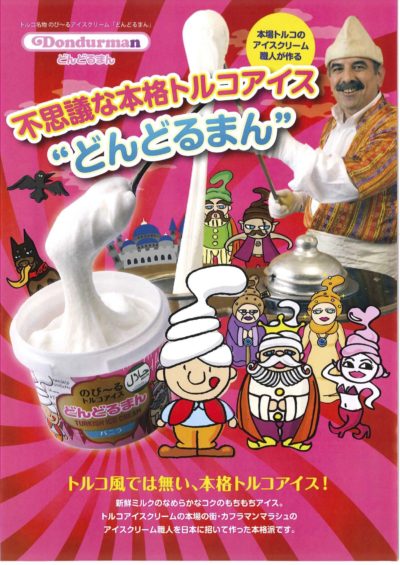 What are you looking forward to in Halal Expo Japan 2016?
We look forward to raising awareness of our efforts and our products to different levels of customers.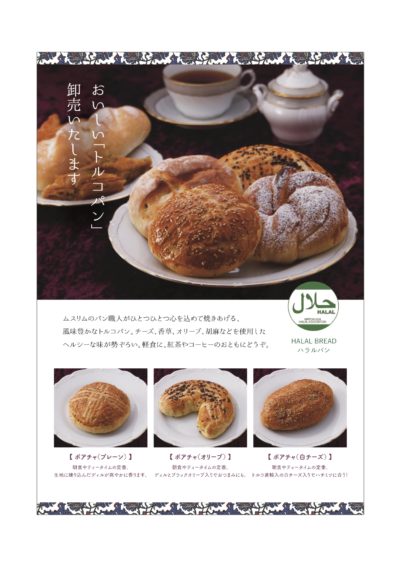 Where can I buy your products?
For the products that we manufacture, you can find them in the restaurant we manage in Haneda Airport called "Mrs Istanbul". Currently Turkish bento and Kebab bento can also be purchased at JR Tokyo Station Bento shop "Zenmai Minami Tsuro-ten". For the rest of the products, you can purchase online.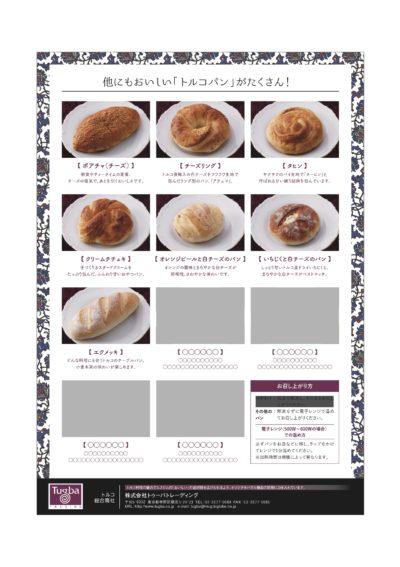 We hope that by having Turkish food in Japan, the Muslims and more people will know of the delicious taste of Turkish cuisine.
http://halalworld.jp/ja/
http://tugba.co.jp/jp/
Related Article
[card url="https://www.halalmedia.jp/archives/12468/halal-expo-japan-2016-will-held-halal/"]