Written by Hafizah Khusni
Wear kimono while dining at Tanbaya restaurant!
Recently a traditional Japanese restaurant in Sano city, Kappou Tanbaya has started to serve Muslim friendly full course menu – from starter to main dish and dessert. But that is not the only attractions, they also provide 'kimono wearing' service for Muslim ladies. You can wear the kimono while dining in this restaurant!
My family and I decided to pay a visit to this restaurant yesterday. We love Japanese foods, and I am very excited to know that finally, after 6 years living in Japan I can try wearing a kimono on me!
We arrived there about 6:15 pm. Saori san, Tanbaya's lady staff warmly greeted us at the entrance and lead us to a private room. After putting my things, Saori san brings me to another room to put the kimono on me.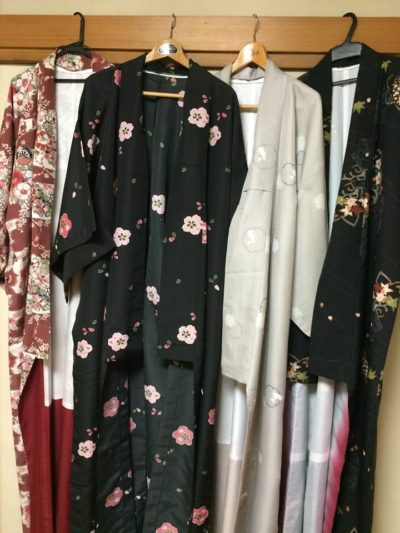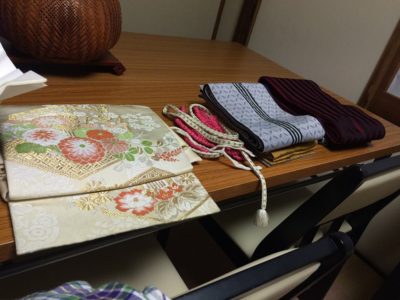 There are several pieces of kimono to choose from, and all of them are very pretty that I took some time to choose. Finally, I chose a black kimono with purple and pink floral to match with my purple hijab. The obi was chosen by Saori san, to match with my kimono. They provide a big mirror so I was able to fix my hijab well after I'm done fitting with the kimono.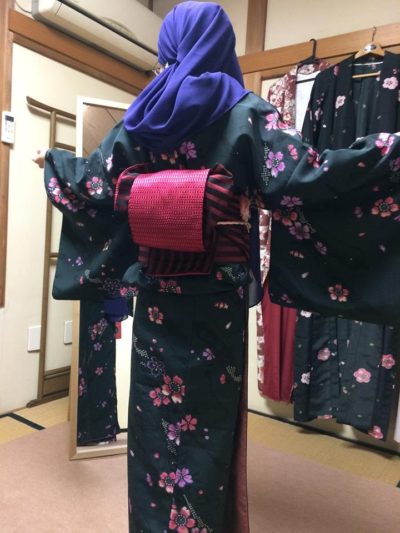 Saori san brought me back to our private dining room. After a while, they started to serve us with starter, and followed by main dish and finally dessert. All of them are really delicious! My husband and I really enjoyed our dinner. All of the menu are safe to consume by Muslims as they did not use any alcohol, mirin and sake.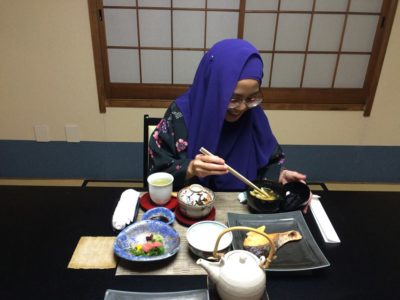 This is my first time wearing a real kimono since living in Japan for 6 years, and I am so excited! My husband took several pictures of me inside of the dining room and Saori san also offered me to take some outdoor pictures as the landscape of the restaurant is so nice and beautiful.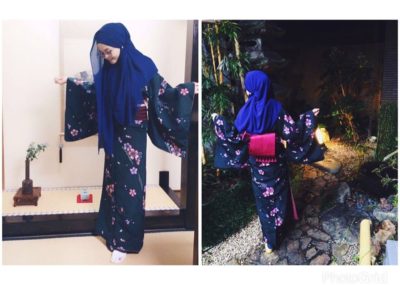 Thank you Tanbaya for this special kimono wearing experience! For only 1000 yen (not including dinner fee), Muslimah ladies in Japan now can try wearing kimono while dining Japanese meals.
Notes:
1)Reservation must be made before coming to the restaurant.
2)Party with certain number of participant are welcomed! (Reservation must be made)
3)Budget is around 5000 yen to 10,000 yen per person (tax, service charge included). They will prepare the menu based on customer's budget.
Kappo Tanbaya
Tel

0283-22-0151

OPEN

Lunch 11:30-14:00 / Dinner 17:00-22:00

CLOSE

Irregular holidays

Address

217 Wakamatsucho, Sano-shi, Tochigi 327-0846

E-mail

Halal Gourmet Japan
Related Article
[card url="https://www.halalmedia.jp/archives/20703/kappo-tanbaya-in-sano-city-a-muslim-friendly-town-is-now-serving-muslim-friendly-japanese-dishes/"]
[card url="https://www.halalmedia.jp/archives/20026/a-video-of-muslim-friendly-town-sano-city-is-out/"]