Let's Enjoy watching and eat a famous mochi of Nara Pref.!
Writer: NARA Halal.com
Nakatanido is a very famous Mochi shop because of very fast smash cooking! Many media company did converage on them.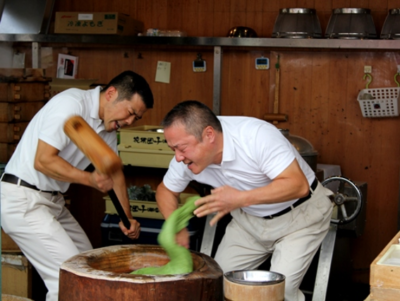 Before it getting cold, they smash fast to make ball shape so You can enjoy warming mochi just cooked at store.
(Youtube movie is here https://youtu.be/cGeUE9KK-es?t=30s)
Ingredients only contains rice, yomogi glass, suger, salt, Red bean and Kinako(soya bean powder)!
Lets enjoy to see and eat at store together!
Nakatanido
Address

2-9 Hashimoto cho, Nara city, Nara Pref.

TEL

0742-23-0141

Tips

10mins from Kintetsu Line Nara station. Located Next to Halal Kebab/Ice cream shop.
関連記事
[bc url="https://www.halalmedia.jp/archives/24461/turkish-kebab-turkish-ice-cream-available-sightseeing-place-nara/"]