Muslim x Lolita
Lolita is a fashion originating in Japan and spread to the rest of the world. It is well-known because of Lolita looks cute like a doll or a princess.
Talk about Lolita, it is well-known with dress or accessories with cute ruffle, lace, and ribbon. Lolita itself has some categories such as sweet Lolita (mostly using cute pastel color such as white and pink), gothic Lolita (mostly using dark colors), and classic Lolita (old Europe fashion, with calm and elegant color) etc. To make the appearance closer to a doll, many of Lolitas (they who love Lolita fashion) wear brown or blonde wig.
As we know, Muslim women wear hijab and do not show the skin. Now there is Muslim Lolita which is attract world's attention!

Muslim Lolita also wear cute dress like another Lolita do and keep wear hijab. On the picture above, their hijabs color look like wig that often used by Lolita.
This time, we got a chance to attend and interview Lolitas in an International Lolita's Tea Party, with main guest is two Lolitas from Germany.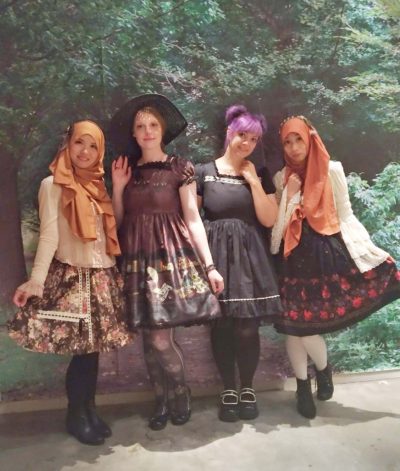 It was the first tea party attended by Muslim Lolita and other participants surprised that hijab and Lolita dress are unexpectedly cute.
Lolita fashion not only give us transformation into a princess, we also can find enjoyment while wear Lolita's cute dress and put nice accessories. In this tea party, we found out an important point that, Lolita is fashion culture which is able to cross over any culture, age, and lifestyle. No wonder Lolita became so much popular in the world, as we can find Lolita's community almost everywhere!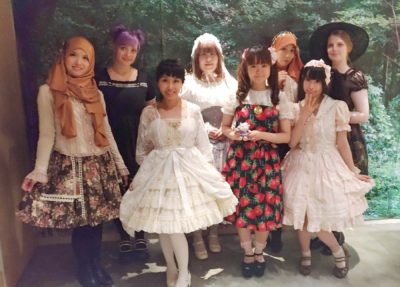 By only adjust hijab color with Lolita costume they are wearing, Muslim Lolita can enjoy Lolita fashion while keep their faith as a Muslim. We hope much more Muslim women enjoy Lolita!