Halal Indian Restaurant in Odaiba
Written by Rahmania Radjadi (www.rahmaniaradjadi.com)
Since I moved to Japan almost 3 years ago, I observed that Japanese love Indian curry. The rich in spicy taste and the thickness of an Indian curry dish, there is no doubt that it could give satisfaction to your tongue and stomach.
Finding a halal Indian restaurant is pretty much easy if you are living Tokyo. I have tried a lot of halal Indian restaurant in Tokyo's most known location such as Shibuya, Shinagawa, and Roppongi. Mumbai, the name of the restaurant is just exactly like the capital of the country. This restaurant is pretty much new in Odaiba's Aqua City, but they have more than 10 branches in Japan.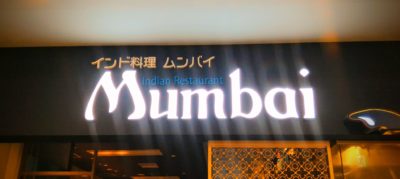 When I walked in, a friendly English speaking waiter named Ahmed welcomed me. After telling me what are they specialized in which is the lamb shish kebab, I ordered a tandoori grill platter, a chicken biryani rice, two kind of curry, and one naan with cheese inside.
I want to give an initial warning, that this restaurant is pretty much expensive since the restaurant is a fancy high-end restaurant with a premium view straight to the famous Rainbow Bridge.
Tandoori Grill Platter
The tandoori grill platter is a platter that includes a chicken tikka, chicken masala, lamb shish kebab, creamy chicken, and some grilled vegetables. The menu also comes with two types of chili sauces which are red chili sauce and green chili sauce.
I like the taste overall, but my favorite was the chicken masala. Since I'm not a fan of lamb meat, I didn't finish the shish kebab even if its their specialty. The price to get one grill platter is JPY 1479, a price that is pretty much fair for what you get in this platter.
Chicken Biryani Rice
So far, this one is my favorite one. I have to be honest that this chicken biryani rice is the most delicious chicken biryani rice that I've ever tasted since I landed in Japan. I love that they are not parsimonious on the spices they use to cook this meal.
The portion this menu is enough to feed 2 people. Again, because I'm not a fan of lamb meat, I ordered the chicken one. The price to get a chicken biryani rice in this restaurant is JPY 1200.
Curries and Cheese Naan
I ordered two curries which are Rogan Josh curry and Prawn Masala Curry. The Rogan Josh, which I don't have any idea why they named it like that, is a thick spicy that so rich in spices with lamb meat. Thanks to the cheese naan that could pretty much cover the strong lamb taste in the mouth.
The Prawn masala curry is delicious, a fresh spice taste curry with some prawn inside. I like the prawn curry more because of its freshness not like other curries that sometimes left too many spices to feel.
The price to get a bowl of any curry menu there is JPY 1.339. All prices in the restaurant are before tax.
Location
Address

AQUA CITY ODAIBA.6F,1-7-1,Daiba,Minato-Ku,Tokyo

OPEN

LUNCH TIME 11:00~17:00
DINNER TIME 17:00~23:00

TEL

03-6457-1566

FAX

03-6457-1567