Hokkaido "Asahikawa" Muslim Friendly Map is finally completed!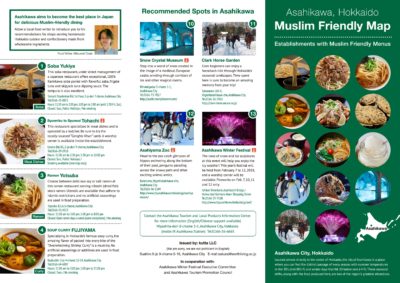 When we published an article about Asahikawa muslim friendly spots,
we got many requests to make Asahikawa muslim friendly map from Halal Media Japan readers.
Then this time finally we published Asahikawa Muslim Friendly Map.
This is the 3rd one in Hokkaido.(1st:Sapporo / 2nd:Obihiro)
You can download it from here.
There are so many genres of food in Asahikawa!
Directly managed by a Japanese style restaurant serving great tempura, Soba Yukiya
This is a soba shop that uses 100% soba grown in outskirts of Asahikawa.
I recommend you try the simple "Morisoba (700 yen)."
Make sure you also try a la carte dishes (from 250 yen) like the "Dashimki tamago".
https://www.halalgourmet.jp/restaurant/340368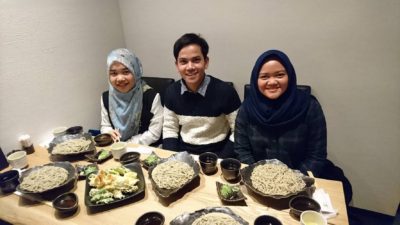 Rich Niboshi (dried sardine) soup ramen, Ramen Yotsuba
This is a restaurant specializing in "Niboshi ramen," which the locals cannot get enough of. The recommended menu is "Niboshi ramen, White soy sauce (750 yen)." "Niboshi ramen, shoyu (750 yen)" is also popular.
https://www.halalgourmet.jp/restaurant/895531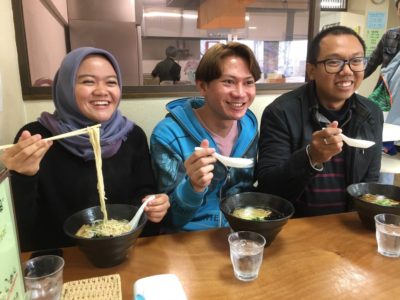 Enjoy "Jingisukan," a local favorite of Hokkaido, Seasonal Meat & Vegetables Tohachi
This is a restaurant is run by a meat shop owner and specializes in meat menus. The most popular menu is "Fried Jingisukan and vegetables (980 yen for dinner and lunch)" made using HALAL-certified lamb meat and crisp vegetables. *The image is a serving suggestion.
https://www.halalgourmet.jp/restaurant/720224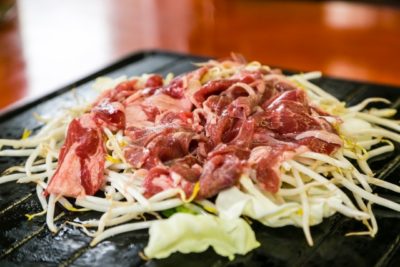 Main attractions
Asahikawa Zoo has hippos running down the bottom of a pool
Asahikawa Zoo has a giant hippopotamus running down the bottom of a 3-meter-depth pool. I also recommend the "Feeding time," a great chance to see animals in action. Make sure to check in advance since the meal time differs by animals. Asahikawa Zoo has their own prayer space, so you can enjoy the park without worries.
Please be advised that you must contact the Central Support Center to use the prayer space in the central area.
http://www.city.asahikawa.hokkaido.jp/

A bright white snow castle, the Snow Museum
This museum became famous for its appearance which reminds you of the castle that appeared in the popular movie, "Frozen." The "Princess Experience" is a super popular service where you can take a picture in a dress in front of the "Icy ambulatory" where the temperature is maintained at -15 degrees C for the entire year to keep structures made of ice from melting.
http://yukibi.marryblossom.com/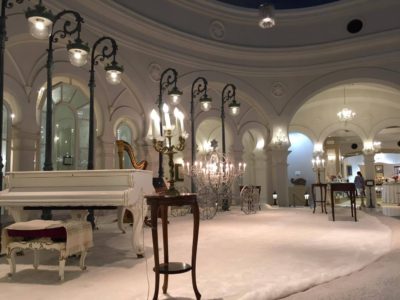 Experience horseback riding during the summer and winter at Clark Horse Garden
You can experience horseback riding in an environment surrounded by the nature at the suburban and rural area of Asahikawa at "Clark Horse Garden." They accept horseback riding experiences even in the snowy season when the ground becomes covered with snow.
http://clark-horse.sakura.ne.jp/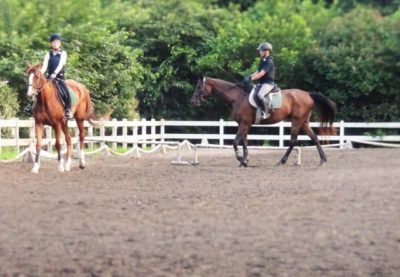 When you visit to Asahikawa,
please don't forget to download the map!
You can download it from here.
Asahikawa airport
| | |
| --- | --- |
| Address | 〒071-1562 〒071-1562 Hokkaido Kamikawa District, Higashikagura, Higashi 2 Sen, 16-98 |
| Phone | 0166-83-3939 |
| Web site | https://www.aapb.co.jp/ |