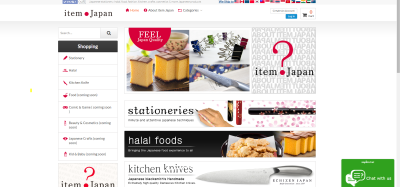 https://item-japan.jp/about-item-japan
On June 23rd 2015, C-Connect Corporation launched a global e-commerce website item Japan with a concept of "delivering Japan quality to the world." Product lineup consists of 8 categories: Stationery, Halal, Kitchen, Food, Games, Manga & Anime, Beauty & Cosmetics, Japanese Crafts, and Kids & Babies. Its Facebook page, also opened together with the launch, gathered over 120,000 Likes for a month, and the attention has been rising.
The website has set Halal category with the aim of satisfying foreign customers with products with sophisticated Japanese quality, regardless of their religious backgrounds. Although Japanese cuisine has become one of the most popular food enjoyed worldwide such as sushi, it has been difficult for Muslims to experience Japanese food because they often contain haram (non-halal) ingredients.
Despite the fact that there has been an increase in the number of Japanese companies adjusting to provide halal or Muslim-friendly service, the availability of their products is limited overseas.
The e-commerce company C-Connect, could be the pioneer in building a cultural bridge which connects foreign customers with Japanese quality halal products.
item Japan provides specific details especially for halal items, by disclosing the ingredient list, the name of halal certification institutes and other related information on each product page. This effort assures the reliability of halal items and reduces customer effort. There is also a chatting system on the website, in which the customers can ask questions to the store staff.
The person in charge of halal products has mentioned their future goal of delivering Japan's excellence to overseas through variety of items, as the company continues to increase the range of halal or Muslim-friendly Japanese products hand in hand with other domestic firms engaging in halal business.
item Japan
https://item-japan.jp/about-item-japan
item Japan FaceBook page
https://www.facebook.com/itemjapan.jp?fref=ts