Essential things to pack for your first winter trip in Japan
Japan has some iconic and inspiring places that make people from all over the world want to visit and explore Japan. Generally, people will travel to Japan in spring for a rare chance to witness the beauty of Sakura on Hanami festivals, or in autumn to see Japanese maple leaves. Or even travel in winter to see the snow festivals.
There are many articles out there to help people experience wonderful winter. So, from a beginner point of view, I also want to share an article about what I wore during my trip to Japan in February this year. Some say that February is the coldest time of the year. Unfortunately I didn't know about that because my lack of research (obviously), I don't live in Japan and live in a tropical country, Indonesia and lastly, this was my first winter. I hope you can learn from my experience and can make the most of your first winter trip.
So, here are things you might want to pack for your first winter trip.
Head and face
It didn't snow in every places, but the wind is cold and dry in winter. I'm wearing Hijab and it actually keep my head warm. But when the sun goes down, the temperature gets colder and can drops below zero degrees Celcius. If you can't stand the cold, wear a jacket or coat with a hoodie, or wear a beanie. And icy wind can sting your face. In my case, I covered my face with the muffler.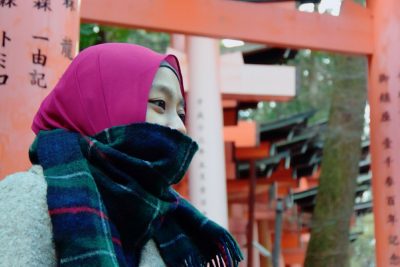 Upper and lower body
It might not be snowing outside, but winter wind is still your enemy. Wearing multiple of layers is necessary and warm innerwear can be your life saver. Prepare a set of warm long sleeve T-shirt and warm leggings in your must-have list for your first winter. I bought mine at Uniqlo Japan. The price is quite affordable, mine was the Heat Tech Extra Warm Turtle Neck for 1,290 yen and a pair of Heat Tech Ultra Warm Leggings for 1,990 yen.
Here are the links:
Top: http://www.uniqlo.com/jp/store/goods/172183
Leggings: http://www.uniqlo.com/jp/store/goods/400262-69
And your next must-have items are sweater and jacket or coat. Whatever the style is, make sure you choose the right material. Sweater and coat or jacket made from wool, cashmere and acrylic is recommended.
It's kind of tricky to balance functionality, fashion and budget for winter look. And winter clothing can cost you a lot of money. But, there is a way to achieve all those criteria, you can purchase second-hand sweater or coat. Ragtag is a second-hand apparel shop in Japan that offers second-hand clothes and shoes for all season, bags and accessories. You can check on their site or visit their store.
Ragtag: https://www.ragtag.jp/
Gloves
Some say that gloves are not really protecting your fingers from cold, and yes, unfortunately they weren't really giving any warmth to my fingers. FYI, mine were knitted gloves. Some people choose not to wear gloves because it is hard to use smartphone.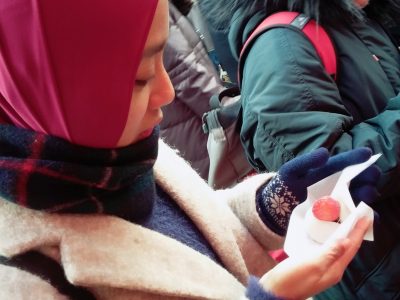 And as you can see on the picture, I only wore one of them, so that I can use smartphone. But, many times I have accidently dropped my smartphone because of my numb hand. So either way, in my opinion you will still need it. Spend more money on a good pair of thermal gloves, trust me you'll thank those pair of wonderful gloves.
Shoes and socks
Your head-to-toe winter preparation is almost done. Protecting your feet and toes is as important as protecting our face and upper body from the cold and biting wind. Winter footwear doesn't come cheap and purchasing this type of shoes can hurt your budget. You can still wear your daily shoes, but you will require special protector.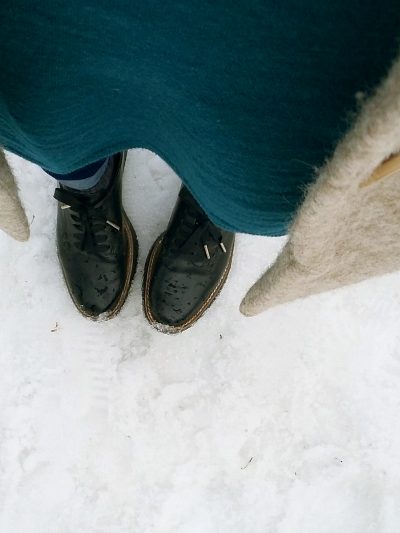 You still can wear canvas shoes, but you will need to waterproof your shoes with a fabric waterproofing spray. For any kind of shoes, you will be needing a good pair of warm socks. As for me, I was wearing my brogues and a pair of Heattech socks from Uniqlo for 990 yen.
Heat Tech Regular Socks: http://www.uniqlo.com/jp/store/goods/406270-63
Kairo
Last but not least is Kairo. For me at least, it's the most important thing to bring for my adventure. Kairo is Japanese magic heat pack, you can find Kairo in almost any store and the price may vary depending on the size. You can attach it to your clothing, stick it under your socks or put it inside your pocket. But better not stick it directly onto your skin. You have to squeeze or shake it first before using it.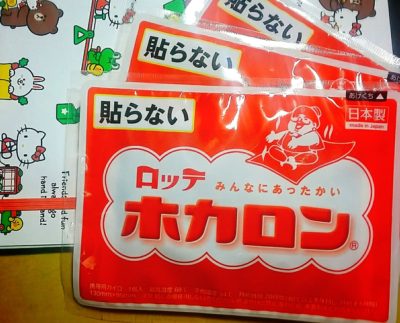 I tried several different types of Kairo. Some of them took forever to heat up and weren't warm enough for me, usually the heat lasted 5 hours. I found packs of Kairo from Seven Eleven in Kanazawa. It gets warm right away and lasted for 1-2 days!
How I experienced the winter
Actually I was still feeling a bit cold even with all the layers of clothing, I could endure the cold but my hands were numb. The icy wind slipped through my gloves, so my savior was Kairo. I didn't stick it on my clothing, but I put it in my pocket. At the coldest temperature I would use 2 packs of Kairo. And, although covering your face with the muffler can do the trick. You might still need to protect your skin with moisturizing cream or lotion on your face, hands and feet. I got my heels scratched and literally bleeding out of nowhere. You can find this cream at any Konbini you can find for only about 300 yen.
So there you have it, essential items you might need for your first winter experience. Always have your camera or smartphone ready. Hopefully, these can help you enjoy your very first winter trip. Take care and have fun!