Japan's Outstanding Result on GMTI 2018!!
The growing of Muslim population and Muslim in middle class as well as increasing the availability of Muslim-friendly travel services and facilities are contribute in the increasing of Muslim travelers movement, especially related to inbound and outbound of both OIC (the Organization of Islamic Cooperation) and non-OIC countries.
Global Muslim Travel Index (GMTI) powered by Mastercard and Crescentrating analyse the Halal travel market across the globe, and on this year report, on 2018, thanks to everyone's cooperation and contribution, Japan is presented in the 4th place on the muslim-friendly non-OIC destination ranking, which means just one more step into TOP 3!!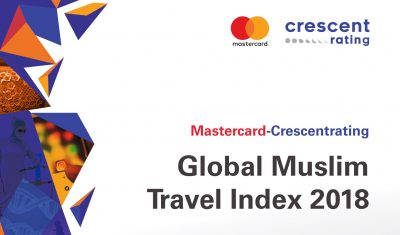 Japan got 23rd place on its first ranking on 2013, then move up significantly every year, to 17th (2014), 11th (2015), 8th (2016) and the last was 6th (2017).
Global Muslim Travel Index 2018 Report
About GMTI
GMTI is a report presenting muslim-friendliness of travel destinations by analyse the Halal travel market, powered by Mastercard and Crescentrating since 2011. The GMTI 2018 has adopted the latest set of measurements to better indicate the level of Muslim-friendly travel of each destination。
About CrescentRating
CrescentRating is the leading authority on Halal travel and tourism, uses insights, industry, intelligence, lifestyle, behavior and research on the needs of the Muslim traveler to deliver authoritative guidance on all aspects of Halal travel to organizations across the globe.