Break Language Barrier with "Food Diversity Communication Sheet"
What do you care for when it comes to the trip to Japan?
It seems many people would answer "language".
This "Food Diversity Communication Sheet" will solve your problem about the language barrier especially when you cannot communicate with restaurant staffs about what is used in the dishes in your mother language or English.
Download from here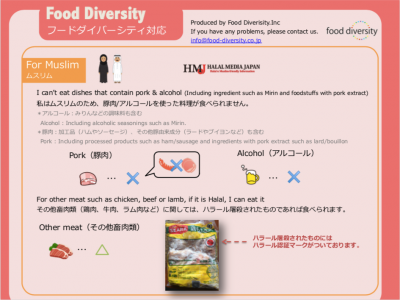 It is written in English and Japanese, so this makes easier to communicate with Japanese who cannot speak English.
Check Pork and Alcohol
JP:私はムスリムのため、豚⾁/アルコールを使った料理が⾷べられません。(みりんなどの調味料/豚由来成分の⾷材も含む)
EN:I can't eat dishes that contain pork & alcohol (Including ingredient such as Mirin and foodstuffs with pork extract)
Check Halal Meat
JP:その他畜⾁類(鶏⾁、⽜⾁、ラム⾁など)に関しては、ハラール屠殺されたものであれば⾷べられます。
EN:For other meat such as chicken, beef or lamb, if it is Halal, I can eat it
Other Food Option Available
This can be applied to vegetarian and allergy. Please download this and let's get ready before your trip.