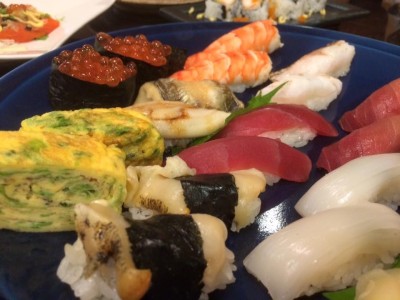 Sushi is one of the major dishes representing Japanese foods.
However, normal sushi is made by mixing vinegar into rice and dipping it into soy sauce.
*Generally, vinegar and soy sauce contains alcohol components.
Moreover, sushi restaurants commonly serve one-plate dishes, and not just sushi.
These one-plate dishes are Japanese foods, so they often contain seasoning such as mirin (sweet rice wine).
Among which, Sushi Ken located in Asakusa started serving sushi using HALAL vinegar (Tamanoi vinegar) and HALAL soy sauce (Fukuoka soy sauce). Also, regarding one-plate dishes, chef with over 10 years of experience put efforts into re-produced the flavor of traditional Japanese food (washoku) without using mirin to create a structure for welcoming Muslim customers. It tastes purely amazing.
*Although it may be difficult at busy times, they also provide space for praying.
We would like people to have sushi if you are in Japan! Head to Sushi Ken if you are looking for sushi restaurants in Asakusa!
Sushi Ken creates each and every dish with care using only the finest ingredients, and is an amazing restaurant that takes care to be a restaurant that will remain as great memory to the customers.
*The restaurant itself is not halal-certified.
*They serve alcohol drinks
Tel

03-5246-6547

OPEN

Mon-Sat(月-土) 12:00-14:00 (LO14:00) 17:00-24:00
Sun,Pub(日祝) 11:30-15:00 (LO14:00) 17:00-22:00

Address

2-11-4, Asakusa, Taito-ku, Tokyo

Halal Gourmet Japan