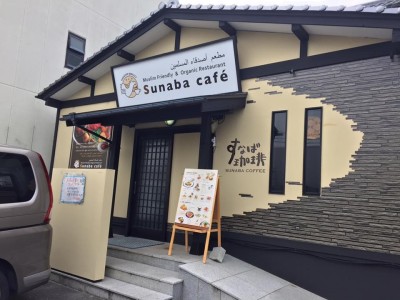 Written by Fujisaki-san
Tottori Prefecture did not have a single Starbucks until May of this year. Instead, there is a café branch called "Sunaba Café" named after the famous Tottori sand dunes, throughout Tottori Prefecture. They recently opened a new store in front of Koyama station, the station beside Tottori station. This store is unlike any other.
The first point that makes them unique is that all their menus are HALAL.
Even coffee is HALAL. Menus are written in English as well as Arabic. Further, what is surprising is their price. You can have their daily lunch plates at only 648 yen. The daily lunch plate offered at this report was tempura. A sweet sauce was used, making it a plate with exotic feeling.
The second point is that they have Muslim staffs.
Muslim staffs are in the store 5 days a week, making it less of a worry for customers to enjoy their meals.
At last, they have a prayer space.
The first floor of Sunaba Café is the eat-in space, and the second floor is entirely dedicated for prayer space. There are places where you can wash your hands and feet, with two rooms available.
*The restaurant is not Halal-certified.